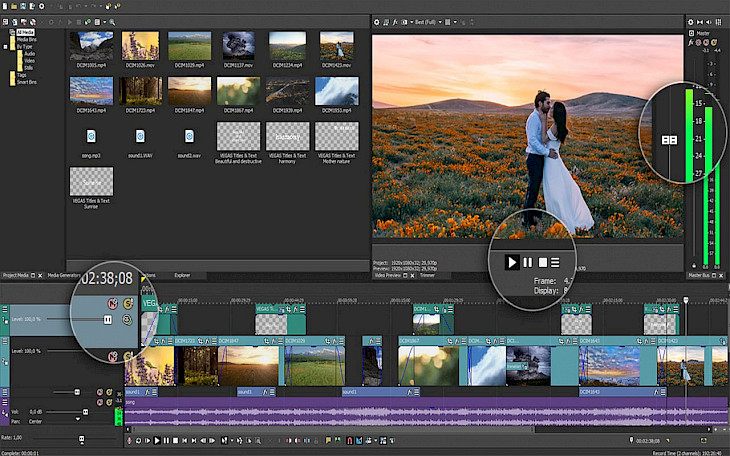 Download Vegas Pro
Vegas Pro 18 is a great NLE video editor designed to create movies. Vegas Pro comes complete with DVD Architect Pro 6, Dolby Digital Professional Encoder, and plug-in collections from FXHOME, NewBlueFX, and iZotope. Download Vegas Pro 16 Trial for Windows 10.
Combine up to 32 high-quality, keyframeable effects per effects chain and apply them at the event, track, media, or project level. Vegas Pro uses an advanced plug-in architecture based on the OpenFX standard to assure compatibility with hundreds of cutting-edge effects designed by leading video effects VFX developers. Parent/child tracks and 2D and 3D modes provide a powerful, flexible, and sophisticated compositing environment.
Shape Masking tools and FX Masking make panning, cropping, and targeted effects treatments easy. The Color Match plug-in along with a wide range of other color-correction tools enable you to quickly match color characteristics from one clip to another.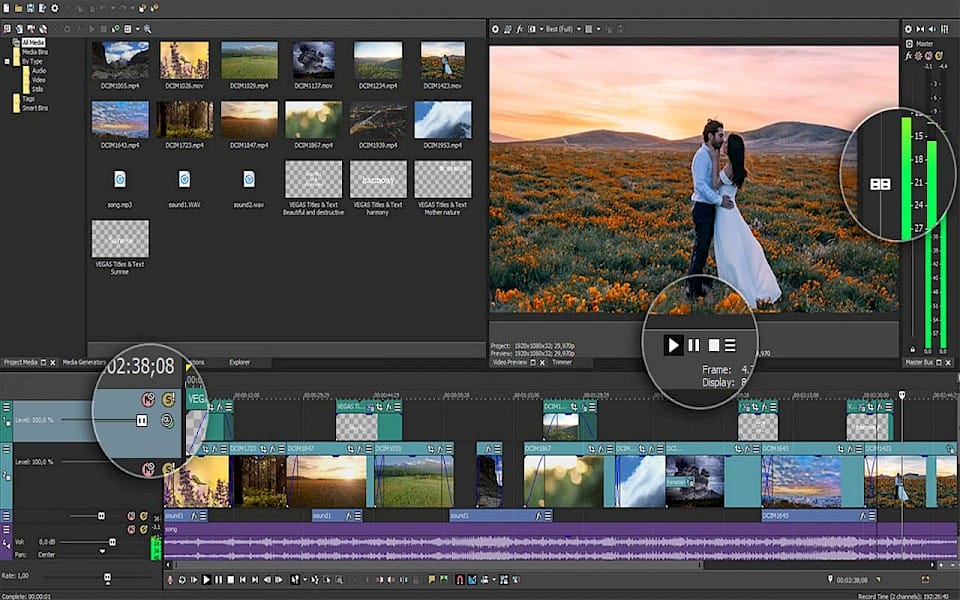 Use unlimited audio tracks, high-resolution 24-bit/192 kHz audio recording and playback, punch-in recording, 5.1 surround mixing, effects automation, and time compression/expansion. Shape your audio with customizable, real-time audio effects like EQ, reverb, delay, and more. Expand your audio processing and mixing options with supported third-party VST audio plug-ins. Vegas Pro 17 includes support for 64-bit versions of Creative Software Noise Reduction 2.0, Wave Hammer, Acoustic Mirror, and more.
Image stabilization with proDAD Mercalli V4 makes shaky footage a thing of the past. Rescue material you thought was unusable and optimize it with proDAD Mercalli V4. Stabilize fisheye images or videos from your digital camera, action cam or 3D drone cam.
The dynamic zoom-in function lets you create smooth, stabilized videos without impairing wide-angle shots. NewBlueFX Titler Pro Express helps you to create titles, captions, and closing credits in broadcast quality. Give your productions extra polish with sophisticated animated titles to brand your projects with your unique style.
Vegas Pro natively supports frame sizes up to 4096 x 4096. The 4K image standard for digital cinema projection is 4096 x 2160 pixels. This level of resolution provides more detail and flexibility to pan and crop when delivering in HD. It's ideal for compositing and video effects work as it provides a high-quality final output. Vegas Pro natively supports XAVC and XAVC S files as well as RED ONE and RED EPIC files.
Burn movies to Blu-ray Disc directly from the Vegas Pro timeline or with the included DVD Architect Pro where you can author DVD and Blu-ray Disc projects with subtitles, multiple languages, and numerous playback menus.
Preview and test your work in real-time. Import layered Photoshop PSD files for buttons and other graphical elements. The MainConcept AVC encoder supports variable bit rates up to 40 Mbps and an average bit rate of 25 Mbps, for top-of-the-line HD quality.
You might also like