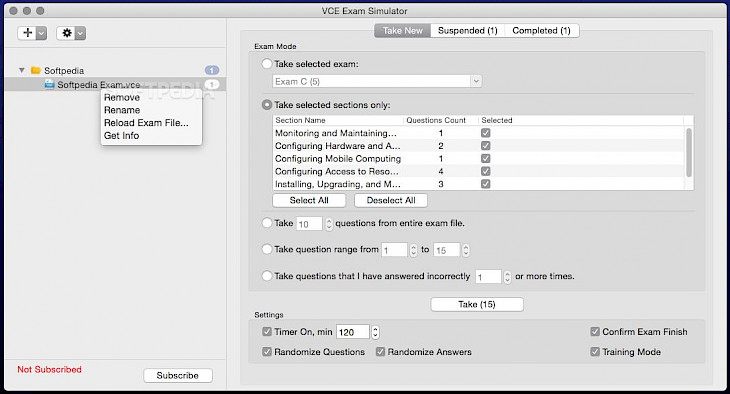 Download VCE Exam Simulator
Taking tests and other examinations help the common man identify their credibility in thinking and ensure that they know and expertise in the given topic. However, most of the many tests are just memorizing few lines and barfing them out on the appear to show that the person knows something. However, in the corporate world, things don't run like this.
Experience is what companies require, and for the same, many aptitude-based examinations test the thinking, analytical and problem-solving skills that help companies assess the candidate's potential. For the same, there are software's that help in this venture, and we have one exciting application up for discussion today.
What is the VCE Exam Simulator?
VCE exam simulator helps candidates prepare for an examination and allows them to face mock examinations for a particular certificate course. It creates multiple practice rooms and similar question-based pattern to enable users to have the best experience in clearing the actual examination. It's quite realistic to the real exam, customizable based on your preference, and there are many questions to choose from depending upon the examination you might be appearing.
Key Features of the Software
The software helps candidates to learn and understand the questions that are being asked. They provide solutions and ensure that they have a sample pattern that helps decode the core aspects of how to clear the paper for any particular exam.
One of its primary features is how it creates an HR-oriented exam pattern according to the companies requirements; the pattern is set, and the applicant can take the exam. Such patterns can be used to filter out several candidates and choose those that fit the position.
Various school applications
There are multiple schools where it can be used to prepare things. College exams, medical schools, visual arts, and more can be availed from the software to gain maximum practice in clearing the real deal.
Minimum System Requirements
OS – Windows 7 or higher

RAM – 2GB or higher

Storage – 400MB or higher

CPU – Pentium III
How to Download and Install it on PC
The software can be downloaded from its official website. However, you will have to pay a subscription fee to use its services.
Once downloaded, open the files and double click on the installer. Install the software by following the particular set of instructions on the screen.
Enjoy using the software to your fullest extent and train yourself in clearing exams through the VCE exam simulator.
You might also like