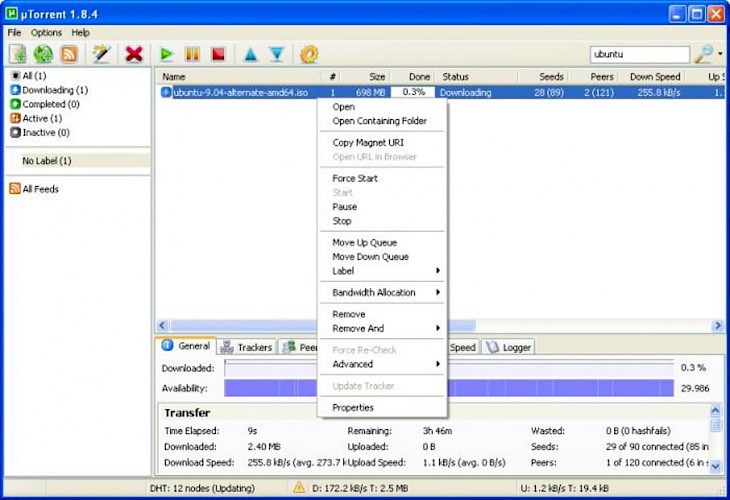 Download uTorrent Portable
uTorrent Portable is one of the popular and worldwide used software that helps the user to download large files easily within a few minutes. With a user-friendly interface, this excellent software allows the users to download multiple files simultaneously, at the same time. There are files that are more important than others, to manage such files you can assign bandwidth prioritization by simply right-clicking each of them.
This fantastic software facilitates the user to view the videos that are still downloading files, those that are seeding, completed, active and inactive. You can start a new download by providing the URL address.
Alternatively, you can also create a new torrent file by adding the file or the directory, assign trackers and web seeds. Such files can be placed online immediately or set as private.
FEATURES
Stream instantly
You can access the videos that you downloaded conveniently anytime from anywhere. This fantastic platform allows the users to watch or preview their files while downloading, you do not have to wait for the file to complete.
Convert, download, and Play
uTorrent Portable has an inbuilt HD media player that enables you to watch the downloaded audio/ video content directly on the same platform. It can also convert your downloaded content to play on any device.
Premium New Features
This excellent software continuously providing new updates to the user. For a better user experience, new features are added to this software. You are free to enjoy these upgraded and advanced features without paying an extra cost.
Anti-virus protection
The files you downloaded from various online sites or platforms may contain harmful malware or viruses that directly affect your device and can also damage it. uTorrent portable provides an automatic scanning feature to protect your PC from online threats that may steal your information and infect your device.
Early access
You can gain access to updates and cutting-edge features before anyone else and keep your system.
How to install uTorrent Portable on the Windows Operating System?
uTorrent Portable is the standalone version and lightweight software that allow users to download even large and heavy files from the internet. You can download the files and simultaneously use your computer without any interruption. You will easily find the PC version of this software and conveniently use it on your PC. To install uTorrent Portable on your Windows Operating System, you will need to follow the instructions described below.
Step 1: It is always preferred to download the software from the official website. To visit the uTorrent Portable site, click https://www.utorrent.com/downloads/win.
Step 2: Alternatively, open your browser and search "Download uTorrent Portable for Windows" in the search box.
Step 3: You can choose any trusted websites like filehorse.com from the search result page to download this fantastic game.
Step 4: Once the downloading is completed, click the setup or .exe file twice to start the installation process.
Step 5: Follow the instructions and guidelines very carefully.
Step 6: When the installation process completes successfully. You can now use this excellent software to download multiple multimedia files and content on your system.
You might also like