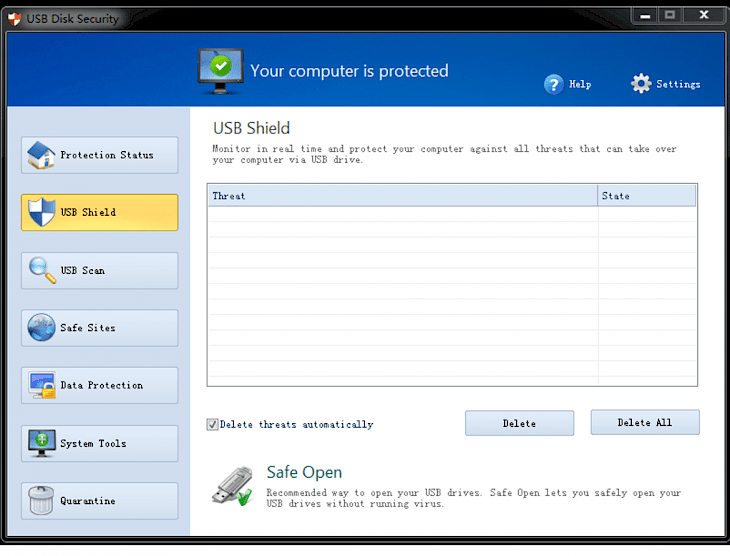 Download USB Disk Security
USB storage is a common source of potentially hazardous material contamination, but a lot of antivirus software can not detect malicious programs from USB drives effectively. When using USB drives, USB Disk Security offers the best defense against any attacks. The primary role of USB Disk Protection is to protect your computer from viruses and malware that can be accessed by a connected USB device.
Features of USB Disk Security
The remarkable features of USB Disk Security include the ones that have been highlighted below.
100 percent Protection via USB Drive Against Any Malicious Programmes
USB Disk Security utilizes revolutionary technology via a USB drive to block known and unknown threats. USB drive, flash disc, safe digital card, thumb drive, pen drive, iPod, portable storage, and more are supported.
The Best Option for Offline Device Security
Other antivirus software can periodically update the virus database and cannot secure offline machines that are not linked to the Internet effectively. Traditional signatures are inadequate when new viruses, worms, and other malicious attacks hit. Each minute you wait for an update to a virus signature opens a vulnerability window that could have catastrophic consequences. USB Disk Protection uses advanced techniques for proactive identification and removes the vulnerability window that other reactive, signature-based responses leave open.
Protecting Data
Provide a high degree of sensitive data protection against misuse and unauthorized disclosure. This feature can prevent your data from being copied to USB drives by unauthorized users and can also stop threats from being threatened by a USB drive.
The Speediest and Lightest Security Programme in the World
With the USB Disk Security software, speed for detection and scanning does not need to be sacrificed. Compare antivirus apps, and you'll discover that one of the lightest applications in the industry is USB DiskSecurity by far.
Compatible with Other Applications for Security and All Popular Windows Platforms
Incompatibility between antivirus programs is a concern, but it is fully compatible with other security software. USB Disk Security supports Vista, XP, 2008, 2003, Windows 10, 8, and 7.
Easy to Make Use Of
USB Disk Security has been explicitly designed to work efficiently irrespective of the computer skill level of the user. Simply install USB Disk Security and forget about it.
Download and Install USB Disk Security for Windows PC
Download USB Disk Security for Windows PC
USB Disk Security can be readily downloaded from the link shared on this very page above by clicking the 'Download' button. Once the USB Disk Security setup installer executable file starts downloading, kindly wait for it to finish downloading before double-clicking on the file to launch the USB Disk Security installer.
Download USB Disk Security for Windows PC
After the USB Disk Security installer pops up on your Windows PC screen, you need to follow the simple on-screen instructions to complete the installation process.
Click on 'Next' till the User Agreement appears.
Agree to the User Agreement.
Select a suitable location on the hard disk for USB Disk Security to be installed.
Wait for the installation to begin and get over.
Click on 'Finish' to exit setup.
You will now find the USB Disk Security desktop icon appear on your Windows PC screen. You can double-click on the same to launch USB Disk Security anytime you want to check the malicious content in a USB drive inserted into your PC. Be safe!
You might also like