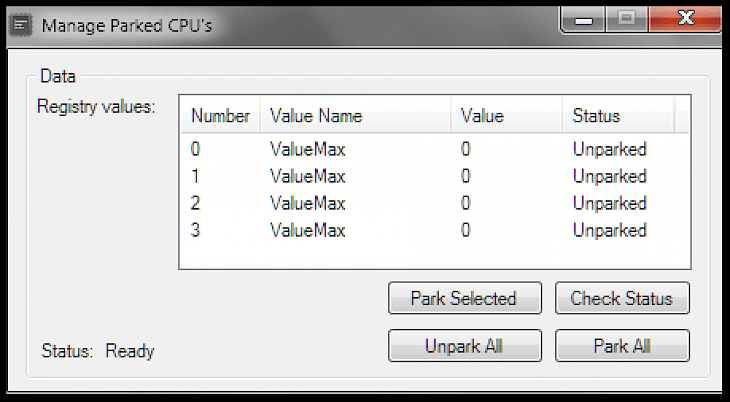 Download Unpark CPU
Are you tired of your CPU forcefully decreasing your gaming performance? Do you want to unlock the full potential of your PC and utilize your full CPU in a particular task? Then the Unpark CPU is the best tool for you.
Developed by CoderBag, Unpark CPU is a lightweight utility system program that can offer PC users of all levels of expertise the ability to take control of the built-in Windows OS service that controls the central CPU chip use. The process of triggering and turning off the processing threads within the CPU is one of the various services that Windows OS continually balances in the background.
This situation is most notable in laptops, where OS needs to retain as much power as it can at all times, often sacrificing the laptop's performance to do so. Time and again, the OS can turn off specific or majority of threads, and thus save power, reduce the thermal performance of the processor, or some other cause. Some consumers, however, prefer to have access to all of their PC's computing capacity and thus want to take care of CPU parking. With the Unpark Processor app, PC users can unpack any or all of the CPU cores on their PC with just a few easy clicks.
Features of Unpark CPU
Even though its primary use is only swapping a few commands in the secure areas of Windows OS that are responsible for keeping in contact with the CPU, this software manages to deliver few additional benefits. Mentioned below are some of its exceptional features.
CPU Visualization
To begin with, the Unpark CPU has a small display window that displays the number of processor cores identified, the number of parked cores, and the visual graph of the current use of the CPU.
One-Click Core Unlocking
For the currently active power plans of System Power Plan and System Power State, an easy to use Core Parking Index Slider, and a convenient 'Unpark All' button on the very bottom are in the drop-down menus below each processor core displayed. Users who just want to unlock all the cores quickly can click that button, or select the appropriate Core Parking Index level and click the Apply button.
Increased CPU Performance
Your PC's CPU can be used far more often and intensely by making all CPU cores unparked, which can lead to improved efficiency in gaming or video processing, for example.
Download & Install Unpark CPU for Windows
Download Unpark CPU for Windows
You can download the latest version of Unpark CPU from any well-known retail website online free of cost. Run the setup file upon download to start the installation.
Install Unpark CPU for Windows
After the setup file is run, the installer will pop up on the screen. Follow these instructions to install the software on your Windows PC successfully.
Click on 'Next' and agree to their User Agreement.

Start the installation process by following installer instructions.

Click 'Finish' to end the installation process upon completion.
Your Windows PC is now ready to be unleashed to its full potential so that you can game seamlessly or stream your favorite movie without any buffering. Enjoy!
You might also like