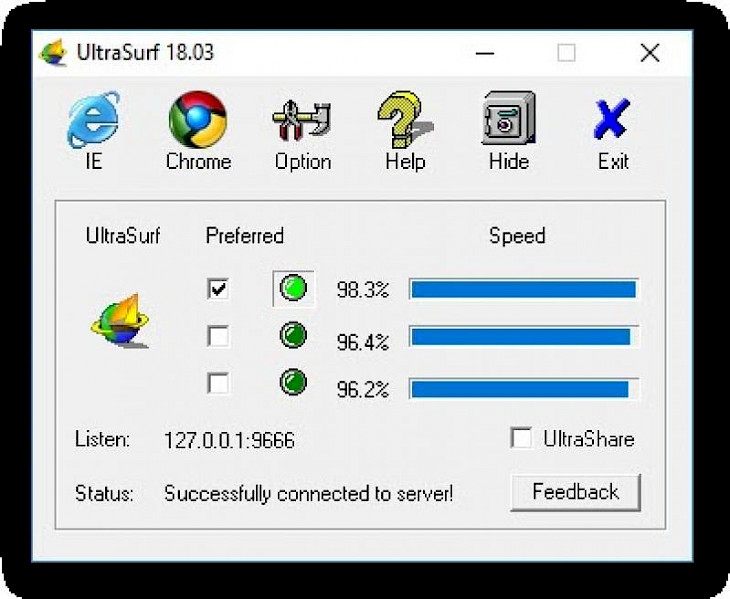 Download UltraSurf
UltraSurf is a free program that allows users through a secure, encrypted tunnel to access websites safely and freely. To understand what security UltraSurf for Windows PC offers, please read this carefully, as well as what the drawbacks and the possible risks are if not used properly.
UltrSurf lets you overcome internet censorship to access websites and material that you would not normally access. UltraSurf encrypts contact with UltraSurf proxy servers from your device and hides your IP address from the visited websites; only the IP addresses of the app proxy servers are seen on websites. The UltraSurf tool is presently only available for PCs, and macOS or Linux operating systems do not support it.
Features of UltraSurf
The beautiful features of UltraSurf have been defined below.
Ultimate Privacy
With anonymous surfing and browsing, secure your privacy online. Ultra Surf conceals your IP address, clears the background of browsing, cookies, and more. Cover your IP from any visited websites with UltraSurf.
Tight Security
To safeguard the data transfer from being seen by third parties, use industry-standard, reliable end-to-end encryption. Encrypt communications online using UltraSurf.
Independent Surfing
Bypass censorship of the internet to openly access the internet. Easily circumvent web censorship.
Software for Clients
UltraSurf does not mount any files on the computer of the user and does not leave any editing of the registry after it is exited. In other words, it leaves no evidence of its use. A user just needs to uninstall the exe file called u.exe to remove the program from the device altogether. It is only available on the Windows platform, runs by default via Internet Explorer, and has an optional Firefox and Chrome plug-in. The UltraReach website states that Some anti-virus software companies misclassify UltraSurf as malware or Trojan because UltraSurf encrypts the communications and circumvents internet censorship. Some security firms have decided to whitelist UltraSurf. The UltraSurf client uses anti-debugging techniques and executable compression, according to Appelbaum. The client often uses executable compression.
Servers of UltraSurf
The software works by building an encrypted HTTP tunnel between the device of the user and a central pool of proxy servers, enabling users to circumvent firewalls and censorship. All of its own servers are hosted by UltraReach. The software uses advanced, proprietary anti-blocking technology to resolve online filtering and censorship. UltraSurf switches the IP addresses of their proxy servers up to 10,000 times an hour. UltraSurf is mainly intended as an anti-censorship tool but also provides privacy security with an additional layer of obfuscation built-in in the form of industry-standard encryption.UltraReach uses an internal content filter that blocks those websites, such as those that are deemed pornographic or otherwise offensive.
Download and Install UltraSurf for Windows PC
UltraSurf is downloadable free of charge and does not require installation. You can download UltraSurf in its latest version by clicking on the download button given above. It should get downloaded in an instant.
After downloading, run UltraSurf directly on your Windows PC to hide your IP while surfing the net, be anonymous, and unrestricted access content. Cheers!
You might also like