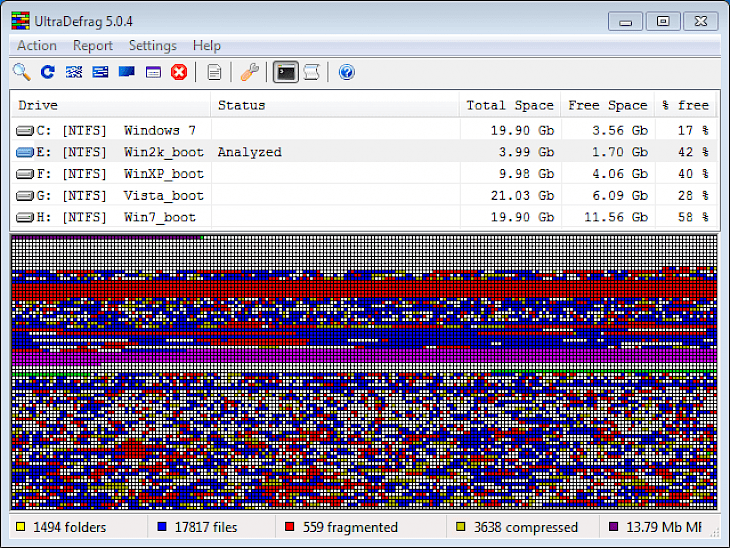 Download UltraDefrag (64-bit)
UltraDefrag 64-bit is a reliable and fantastic defragmentation tool for Windows users. The software is a powerful open-source platform that you can use to defragment any system files including registry hives and paging files. This is a fantastic application that you can download on your system without any second thought. It makes the disk operations faster by reducing file fragmentation. You can also optimize the whole disk by placing small files close to each other, and sorted or arrange the file by the path and other necessary criteria.
Besides the other disk defragmenters, this excellent software application defragments the locked files by operating and running during the Windows boot. All files including the page and hibernation files can also be defragmented by using this beneficial platform. The software is easy to use and you can freely use this tool without any complicated scripting. You can also filter the files processed by size, the number of fragments, file name, and path and terminate the procedure early by specifying an execution time limit.
FEATURES
User-friendly interface
UltraDefrag 64-bit provides an effective and intuitive graphical interface to the user. You can perform multiple tasks and activities in just a few clicks.
Defragmentation of individual files
This excellent platform enables you to perform the defragmentation of files and folders in just one click. You will need to select the objects in Windows Explorer, click on the right mouse button, and select Defragment with UltraDefrag option to quickly defragment all the files.
Defragmentation of locked files
To avoid defragmentation, sometimes the Windows and applications lock various files. The software is designed in such a manner that it runs in a special mode when the windows boot to defragments all the locked files. Now it would be easier and convenient to defragment the locked files in just a few clicks.
Easy Configuration
UltraDefrag has an amazing preference dialog that enables the users to configure in just a few clicks, you will not need to edit scripts anymore.
Command the interface
The software is an amazing tool that includes a command-line interface that can be used to automate complex defragmentation tasks.
Portable edition
UltraDefrag portable edition can be written to a USB stick and can be used directly from there without installation.
How to used UltraDefrag 64-bit on your PC?
UltraDefrag is a great defragmentation tool that enables users to perform various activities. From the system files defragment to well readable HTML reports, this is an excellent application for your system. to install this software on your Windows operating system, follow the instructions and guidelines described below.
Step 1: It is always preferred to install this software from the developer's official website.
Step 2: Alternatively, open your browser and search "Download UltraDefrag 64-bit for Windows" in the search box.
Step 3: Now, you will get a list of websites on your search result page. You can select any trusted website like filehorse.com to download the setup file of this software.
Step 4: Once you have downloaded the setup file, follow the step-by-step guidelines and instructions to start the installation process and run this software on your system.
Step 5: After following all the steps, click on finish, and now you can use this fantastic software on your Windows operating system.
You might also like