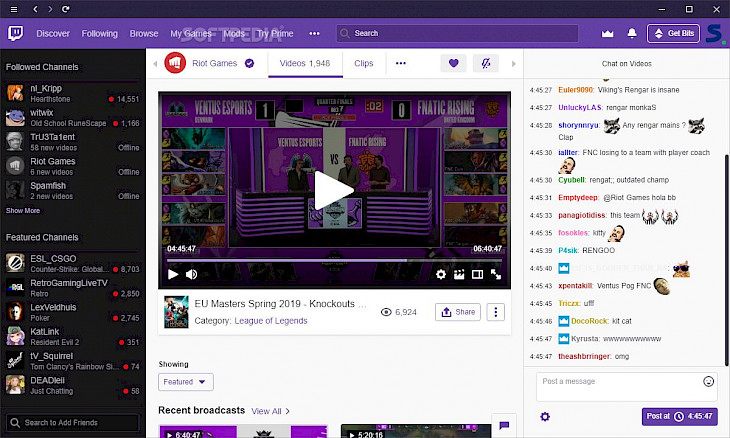 Download Twitch Desktop
Do you dig watching live streams of gamers playing your favorite video games? Twitch Desktop App is a program for social video games and next-generation gaming straight from your Windows PC. Strengthen the bonds between you, your colleagues, and your whole community. The official client that Twitch.tv brings with it! The app says streamers and followers alike will benefit from the new app.
Twitch is a very popular video game live streaming service operated by Twitch Interactive, a subsidiary of Amazon.com, Inc. Launched in 2011 as a spin-off to Justin.tv's general-interest streaming platform, the site focuses primarily on live streaming of video games, creative content, including broadcasts of esports competitions, in addition to music broadcasts, and more recently, "in real life" streams. Site content can be viewed either live or on-demand via video.
Twitch remains the leading live streaming video service for video games in the US and has an advantage over YouTube Gaming. As of 2020, with 1.4 million total concurrent users, it had 3 million monthly broadcasters and 15 million daily active users. Twitch has more than 27,000 partner channels.
Features of Twitch
Twitch is meant to be a video site, like esports competitions, individual player personal streams, and gaming-related talk shows. Live speedrunning is achieved through a variety of channels. Currently, the Twitch homepage displays viewership-based games. The most remarkable features of Twitch are mentioned below.
Streaming Servers
Twitch provides a virtual home to chat, watch, and play with entirely customizable text and voice rooms for your group. Link your channel to your server so that your group can watch Twitch Chat live and use it right inside the app.
Messaging & Friends
All your friends and games you follow are easily imported through Friend Sync. So that you can spend less time herding cats and more time playing together, chatting, video calling, and playing.
Video and Voice Calls
Regardless of whether between one or two friends or an entire raid party, with Twitch, you can experience crystal-clear voice calls. Use an instant invite connection to talk to start a call with anyone. Or hang out face-to-face with video calls with your nearest and dearest colleagues, subs, and teammates. In beautiful HD, up to five individuals can talk together. Screen-sharing is a breeze as well. The Windows PC Twitch Desktop App is excellent.
Overlays and Add-Ons
Find, install, and manage add-ons directly inside the app for your favorite games. And soon, cloud storage makes carrying your settings through multiple machines super easy. Without alt-tabbing, you can also allow in-game overlays to handle your voice and video calls.
Download and Install Twitch for Windows PC
The latest desktop app version 8.0.0 of Twitch is available for download on this page or from the official Twitch website for free. After downloading the app, install it to run the app smoothly on your Windows PC.
You will require a Twitch account to watch live streams of the most popular games in the gaming community right now. Once you create one, you can enjoy watching your favorite gamers on the platform as long as you want. Enjoy watching their streams!
You might also like