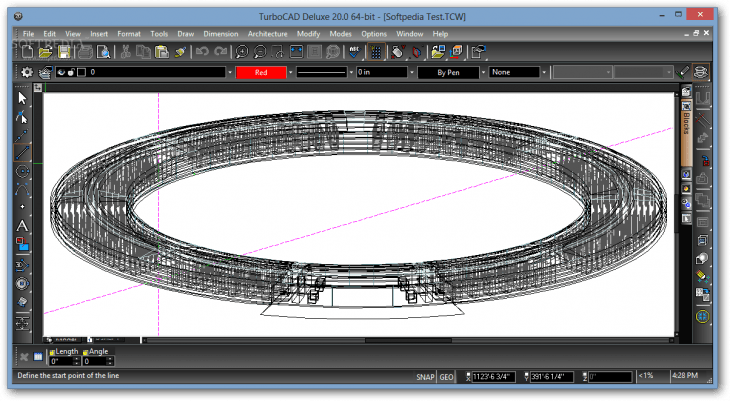 Download TurboCAD Deluxe (32-bit)
TurboCAD Deluxe 32-bit is a beneficial and powerful software that provides the essential tools for 2D drafting, 3D modeling, and rendering. The software is a modeling solution for 2D/3D CAD users and helps you to adjust the interface for your experience level varying from beginner to expert or professional. You can access various modifications, drawing, dimensioning, and annotations tools on this platform to render your designs for a powerful presentation.
The software has an advanced lightening effect that helps to create photo-realistic designs and provides handles for object scaling, rotating, and moving. Apart from the beneficial and amazing features, you will get tools for building and editing the meshes and surface.
FEATURES
New interface option
The user interface of TurboCAD Deluxe is quite interactive and well-organized. The new ribbon interface is similar to the latest version of AUTOCAD and MS-word. You will find an updated CADcourse interface integrated with the keyboard shortcuts for all the commands. For the traditional users, the developers include the classic interface type so that they can work conveniently and will feel comfortable with the new program.
Isolate and hide objects
This amazing feature enables the users to select a complex drawing and select various entities to quickly reduce the complexity and to isolate them independent of layers and groups. This method helps you to focus on the required entities that you should edit and avoid the complicated ones. Apart from isolating certain objects, you can also hide the additional objects so that you can focus only on the important entities during the procedure.
Audit System
'Audit' is the new feature added to the filter's menu of selection info palette. This amazing feature helps the users to highlight the bad objects in the selection info palette and change their parameters, generate audio reports for one or more objects.
Renders style
To make your presentation more effective you can make various enhancements like "light only" for lens flares, minimize or maximize radius of bounce and gather, modify the intensity of final gather controller for blurred shades, and soft pencil sketching, these tools are introduced in the render styles.
2D create option
3D polyline tools are the new option added for the 3D polyline to 'create 2D'. If you are willing to create 2D then simply switch to this option and consequently the polyline is flat then the 2D object is created instead of 3D.
How to install TurboCAD Deluxe 32-bit on your windows operating system?
TurboCAD Deluxe 32-bit is an amazing software application that you can use to render the designs and perform other activities. To install the PC version of this fantastic software on your PC, follow the instruction and guidelines described below.
Step 1: It is always preferred to install this software from the developer's official website.
Step 2: Alternatively, open your browser and search "Download TurboCAD Deluxe 32-bit for Windows" in the search box.
Step 3: Now, you will get a list of websites on your search result page. You can select any trusted website like filehorse.com to download the setup file of this software.
Step 4: Once you have downloaded the setup file, follow the step-by-step guidelines and instructions to start the installation process and run this software on your system.
Step 5: After following all the steps, click on finish, and now you can use this fantastic software on your Windows operating system
TurboCAD Deluxe provides a 15-day trial version to the users.
You might also like