Tupi 2D Magic download for Windows, Mac, and Linux.
Category: Animation software
Version: 0.2.11
Last update: Aug 30, 2018
OS: Windows, Mac, Linux
License: GPL
What is Tupi 2D Magic?
Tupi 2D Magic is a 2D animation tool for desktop environments focused on usability for children and amateur artists. It is available for Windows, Mac and Linux operating systems. The software offers all necessary tools to create simple animations.
One of the main objectives of this project from the beginning has been to provide an easy user experience, starting with the design of the GUI which allows you to create simple animations in 5 easy steps. Tupi 2D Magic offers support for simple tools for vector illustration that includes rectangles, ellipses, lines, and polygons. Paths can be created using the pen or pencil tool. To fill bounded areas of vector objects you can use the paint bucket tool. Three work modes are available: Frames Mode, Static BG Mode, and Dynamic BG Mode.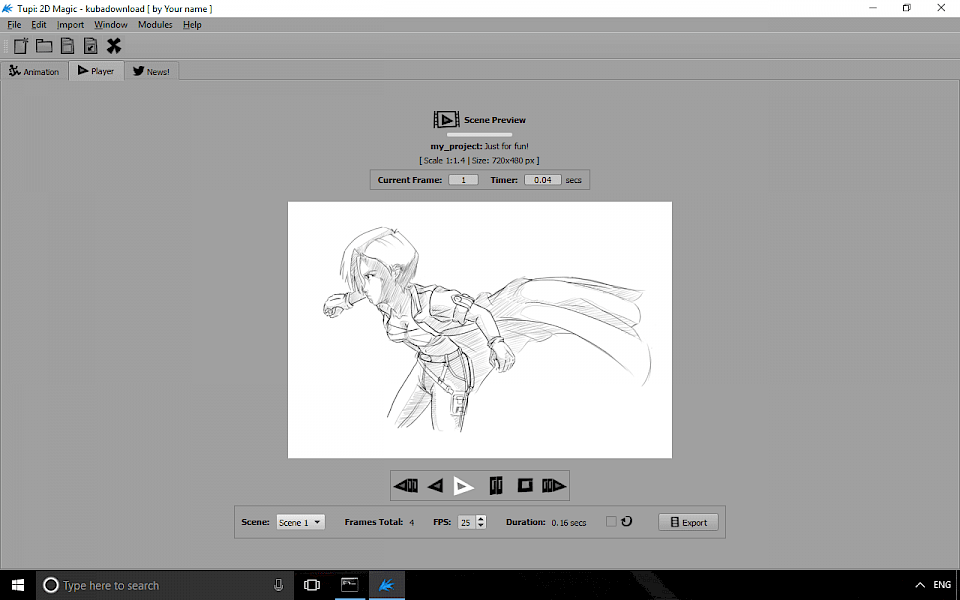 You can import raster images and use them as static backgrounds or animated assets. Tupi 2D Magic animations can be exported to various video formats including Ogg Theora, AVI, MPEG, SWF, or as a sequence of images in JPEG, SVG, and PNG. Basic support for tweening of positions, rotation, color, scale, sheer, and opacity has been added to recent releases.
The Library panel allows for the organization and reuse of imported media assets. The Color Palette allows you to select colors with default palette, or you can use the color mixer. You can also enter HTML color value. From Brush Properties panel the user can select brush thickness, dashes, cap, join and brush style. From Tupi 2D Magic Import menu you can import GIMP Pallets or Papagayo Lip-sync.
Tupi 2D Magic Alternative