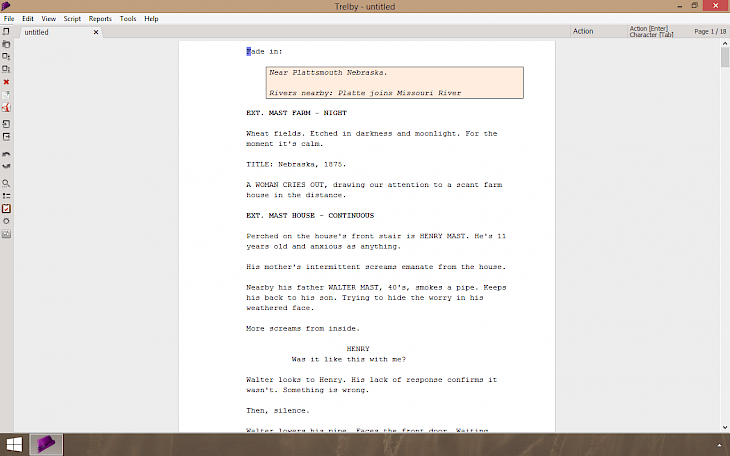 Download Trelby
Trelby is a free screenwriting software for Linux and Windows. You can use it to write screenplays, documentaries, tv shows scenarios, theatrical performances, etc. Trelby follows automatically screenplay formatting guidelines and helps you write your story quicker.
This screenwriting software features multiple writing modes, including a fullscreen mode that will hide away all other distractions from your screen, bells and whistles like spell-checker, and a worldwide character name database. Trelby even checks for screenplay formatting errors in the script. It allows you to control every aspect of the program. From defining what [Enter] and [Tab] do, to what screen elements are shown in print, to font and interface colors.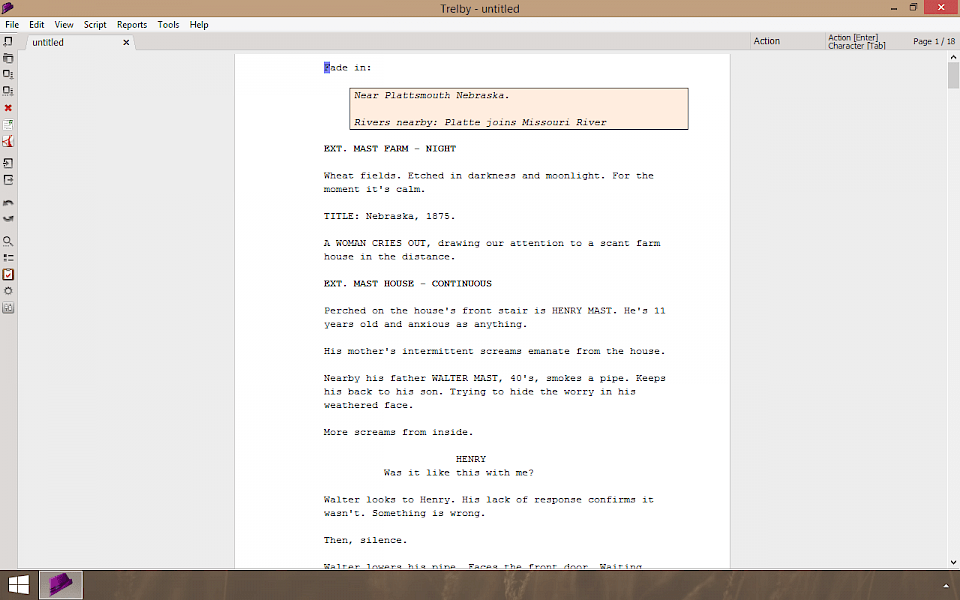 Trelby can provide you with detailed reporting and statistics like per scene breakdown of dialog and action, per character breakdown of lines, a graph of when the characters are active in a script and overall script stats. Trelby can also compare different revisions of your script and show you how they differ. The software uses its own file format to save screenplays but you can also import Final Draft XML (FDX), Celtx, Fountain, Adobe Story (ASTX), Fade In Pro (FADEIN), and TXT files.
Ready screenplays can be exported to formats like TXT, HTML, RTF, Final Draft XML or Fountain. If needed you can also export files to PDF format, with an option to select document font, and even add watermark to all pages. Trelby offers also multiple views, including draft view, WYSIWYG mode, and fullscreen to suit everyone's writing style.
Trelby offers all the features required for writing a screenplay, including bells and whistles like spell-checker, and a worldwide character name database. It can check for screenplay formatting errors in the script. Trelby uses our own open file format to save screenplays and can also import formatted TXT, and Final Draft XML (.fdx) files. Trelby can export to PDF, TXT, RTF, HTML and Final Draft. Trelby download is available only for Windows and Linux users.
Changelog
Trelby 2.2
Undo/redo.
Fountain import/export support.
Adobe Story import support.
Fade In Pro import support.
Install directory is configurable on Windows.
Text import can optionally ignore certain lines.
Better looking tabs.
Windows installer will not try to run Trelby as the wrong user anymore.
Small enhancements to font selection.
Trelby 2.1
Watermarked PDF export.
Ability to use a different text color for each element type.
Celtx import support.
Title page enhancements:
Strings can be right-justified.
Strings can consist of multiple lines.
Non-breaking space support.
New "Act break" element.
Close button on each tab.
"Select all" command.
New icons and splash screen.
Parenthetical indenting fix.
When text is selected: Backspace deletes it, typing replaces it.
Fix long script names overflowing the tabs.
Add "About" page in config dialogs explaining what they are for.
Trelby 2.0
Program is renamed to Trelby and new website launched.
Better default colors.
Cleaned up interface (removal of element type combobox, moving status info to tab ctrl space, better tab ctrl, better-looking draft mode, etc.)
New splash screen.
Add support for Windows Vista/7.
Add Final Draft (FDX) import and export support.
Add HTML export support.
Fullscreen mode.
Toolbar.
Right-click popup menu.
Smoother scrolling (old scrolling behavior available as an option).
Support wxWidgets 2.8.
Only support Unicode builds of wxWidgets.
Speed up name database decoding by 600%.
You might also like