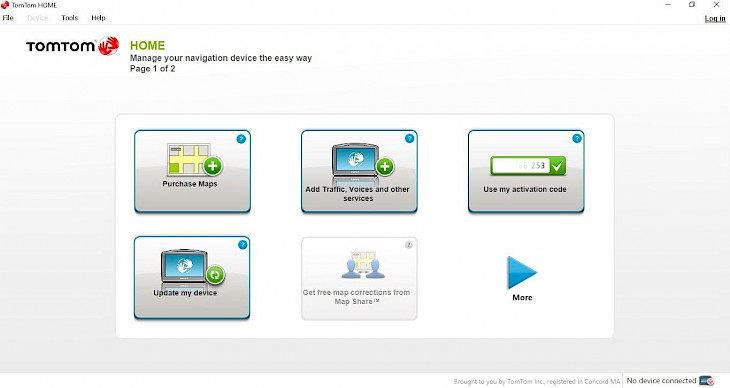 Download TomTom HOME
If you are a TomTom device user and looking for a tool that helps you navigate it smoothly and correctly, this article is for you. TomTom HOME software's PC version will allow you to enjoy the latest services, install maps and services, and many more exciting features.
TomTom HOME software is designed and launched by TomTom International BV. This is an ultimate TomTom management application. This excellent software allows you to backup, personalize, and update your TomTom device to enjoy a premium navigation experience more effectively and efficiently. It is the only and perfect tool you will need to manage and operate your TomTom device.
FEATURES
TomTom HOME allows you to remain updated. For updated navigation, you can check if your device has installed the latest map version on your new device.

You can download free daily map corrections by using this amazing map share feature.

This software helps its users to manage content including photos, routes, and documents on your TomTom navigation device in a more organized and effortless manner.

The applications will keep their users up to date by providing all the necessary information. You can subscribe to the services of your choice to make the maximum utility of this software.

If you love to travel or visit new routes, this fantastic software will be an effective tool for buying routes. Yes, you heard that right, you can buy routes for every country and Receive real-time traffic navigation consequently saving your time.

For those concerned about safety cameras, this amazing application will help you get warnings when you get close to safety cameras.

This software plays a very significant role if you are planning a trip. You may wonder, but you will get amazed to know that this TomTom HOME software comes with a TomTom planner that allows you to plan trips and journeys in a more comfortable and organized manner by setting a starting and a destination point.

There is always something new for the users. This software will add new content every day so that the users remain updated. You can visit this platform to see what's new.

TomTom HOME software allows you to make a backup of your TomTom device content to avoid data loss.
How to Download TomTom HOME on Windows?
TomTom HOME will navigate you and protect your personal information and data. You can access the huge range of services and content from the global community of TomTom users as well. Users can easily install this software on your Windows 7, 8, 10 operating systems to effectively use their TomTom device.
Step 1: It is always preferred to install this software from the developer's official website. To visit the official site, click https://www.tomtom.com/.
Step 2: Alternatively, open your browser and search "Download TomTom HOME for Windows" in the search box.
Step 3: Now, you will get a list of websites on your search result page. You can select any trusted website to start downloading the setup or .exe file of this software.
Step 4: Once you have downloaded the setup file, follow the step-by-step guidelines and instructions to start the installation process and run this software on your system.
Step 5: After following all the steps, click on finish, and now you can use this software to operate your device.
You might also like