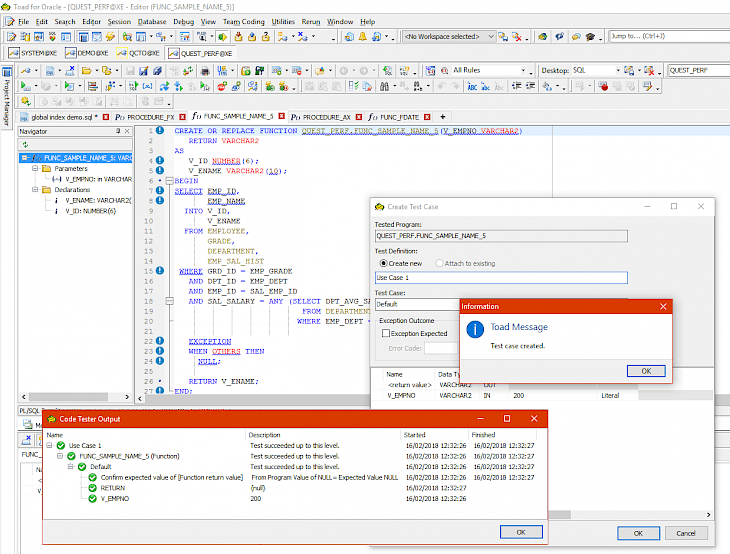 Download TOAD for Oracle (64-bit)
Are you a project manager looking for a database management project to help you better organize the projects at hand? Can you make fair use of an Oracle developer for your business? You carry on more tasks for the database than ever before. The corporation demands that you move quicker, however vital databases and applications are at risk when combined with diminishing capital. What if you could use a single set of tools to speed up the production, management, and management of Oracle to minimize cost and risk and without sacrificing reliability and performance? We suggest TOAD for Oracle for your Windows PC.
Developed by Quest Software Inc., TOAD for Oracle is a Windows PC technical database management program and development app. The de facto Oracle developer and database management program platform for SQL creation and tasks is TOAD Oracle. To allow business agility, modernize your Oracle database operations. There are three versions of the program: TOAD for Oracle DBA Edition, TOAD for Oracle Developer Edition, and Toad for Oracle Expert Edition.
Features of TOAD for Oracle
Toad for Oracle 64 bit is the only solution of its kind that can simplify your workflow, help minimize code defects and boost code quality and efficiency while promoting team collaboration, whether your Oracle database is on-premise or in the cloud. You can automate administration activities on the operations side and handle the databases proactively while supporting performance optimization and risk reduction. The salient features of TOAD for Oracle are as follows.
Developer Operations Support
With TOAD for Oracle, you can integrate teams into control of sources and reduce rework with repeatable procedures throughout the development cycle that can be validated.
Technical Debt Reduction with Automation
You can ensure functional precision and best practices for coding to minimize code defects and scalability of production with automated testing for workload replay.
SQL Optimization Simplified
TOAD for Oracle lets you simplify and automate developers' SQL optimization, advanced DBAs SQL, and index optimization. The software provides a simple interface that solves the issue of developers' SQL tuning and reduces the burden on DBAs. The patented rewrite algorithm of the SQL Optimizer quickly finds alternative versions of the original SQL statement that will run faster in the database.
Code with Your Team
TOAD for Oracle integrates with your preferred source control system and provides schema objects with collaborative access. This enables Team Coding to reconcile changes in source control with the corresponding files, thus simplifying and streamlining the experience of the developer.
Download & Install TOAD for Oracle for Windows PC
Download TOAD for Oracle for Windows PC
TOAD for Oracle can be downloaded easily from a plethora of websites on the internet free of cost. Double-click on the downloaded file to start the installation soon after.
Install TOAD for Oracle for Windows PC
When the installer pops up on your screen, follow these simple instructions to get the software downloaded safely on your Windows PC.
Click on 'Next' and agree to their User Agreement.

Please wait for the installation to begin and end.

Once it ends, click on 'Finish'.
TOAD for Oracle can now be used on your PC to manage and run code projects for you and your business seamlessly. Enjoy coding with your team!
You might also like