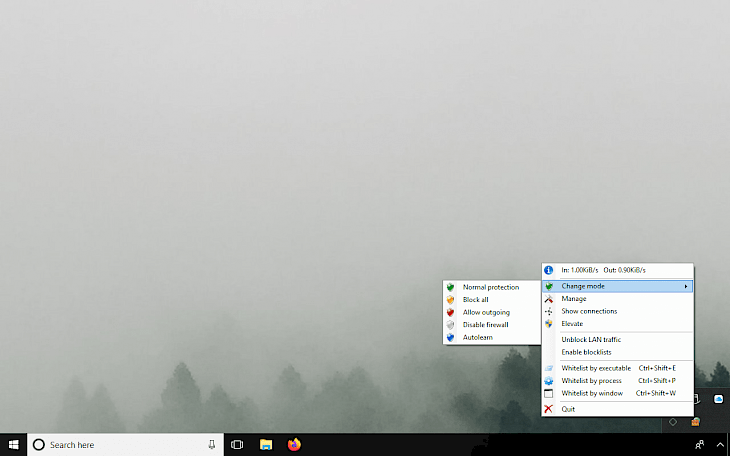 Download TinyWall
TinyWall is a simple and very secure firewall for Windows with no annoying popups and simple configuration. The latest version is packed with a completely new firewall engine and many new features. The firewall is available for free and it's so easy to configure for almost anybody.
Download TinyWall for Windows and protect your system with the lightweight firewall. The program works on a 64-bit system and was tested to operate from Windows 7 and up to Windows 10. TinyWall 3 is now a standalone firewall that can be run without or side-by-side with Windows' own built-in firewall.
The Windows firewall program offers tampering protection, blocklists, temporary firewall rules, UWP-support, boot-time filtering, and more features. TinyWall doesn't show any popups making your experience much more user friendly.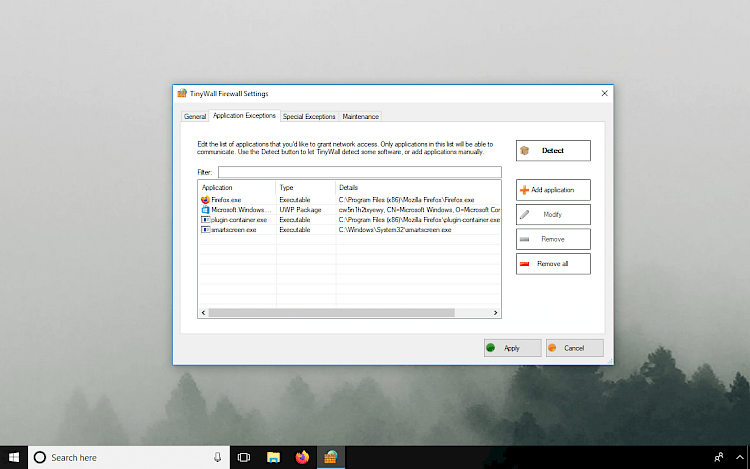 TinyWall makes it easy to whitelist or unblock applications by different means. For example, you can just initiate whitelisting by a hotkey, then click on a window that you want to allow. Or, you can select an application from the list of running processes. Of course, the traditional way of selecting an executable also works. This approach avoids popups but still keeps the firewall very easy to use.
There are multiple and easy ways to whitelist programs. TinyWall Firewall works with the most popular antivirus software and can run in the background next to the Windows Firewall (no other firewall software should be active).
TinyWall offers also an automatic learning mode. This function has been restricted from learning rules for system or svchost processes. What's more, the firewall comes with full IPv6 support, integrated port and domain blocklists, hosts file protection, port-scan prevention, boot-time filtering, and more.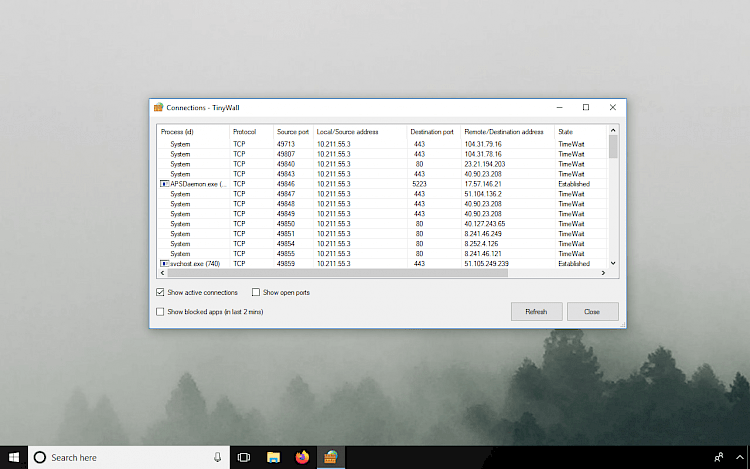 The free firewall offers full support for Windows Store and UWP, various quick-modes, like standard, only-outgoing, block all, etc. Support for temporary or timed firewall rules, password lockdown of settings, filtering of promiscuous apps, and firewall tampering protection. No drivers or kernel-components are installed.
TinyWall is packed also with an option to always allow communication within LAN or to restrict an application to the LAN. Recognition of safe software and impostors. Can list established and blocked connections, and list open ports on your machine. The program works also on Windows Server 2019 / 2016 / 2012 R2.
After installing TinyWall blocks most communication. To use the internet or network-enabled applications, select one of the "Whitelist by ..." options in the tray menu to unblock specific programs. Download TinyWall Firewall for free.
Since version 3.0, TinyWall offers also support for and automatic handling of UWP applications, and full support for Windows File Sharing. The developer added raw- and promiscous-socket filtering, undermining apps that try to monitor or create raw network traffic. There are also over a dozen user interface improvements, ranging from bugfixes to new hotkeys, better performance, etc.
Overall, TinyWall 3.0 is an excellent firewall program for Windows with a user-friendly interface. What I like the most about the firewall is the philosophy of no annoying popups. TinyWall itself is really easy to configure and it simply works. The software speaks in 14 languages. If you need a secure and lightweight firewall for Windows definitely download TinyWall and give it a try.
Changelog
Version 3.0.4
Make language changes take effect without a GUI restart
Handle WMI errors gracefully in service
Wait longer for service availability after loading desktop
Avoid harmless exception being logged during system shutdown
Prevent opening the Manage window when other windows are active
Fix wrongly positioned GUI elements in Dutch and Russian localizations
Fix potential race condition of UI timer during exit
Fix traffic rate text ignores selected GUI language
Updated Russian and Spanish localizations
You might also like