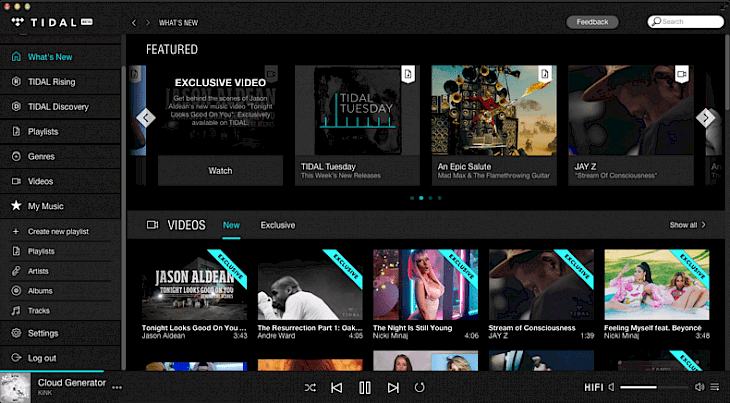 Download TIDAL Desktop
TIDAL Desktop is a subscription-based music service that provides high fidelity sound quality to the users. The software is designed in such a way that it accurately matched the modern and stylish windows software. This fantastic platform is used by millions of users and currently available in 52 countries. TIDAL Desktop is an ideal software that unites artists and fans together by offering unique music and mesmerizing content experience.
For windows users, this amazing application offers a catalog of more than 58 million songs along with over 2,35,000 high-quality videos. TIDAL Desktop is fantastic software and the best choice for those who are passionate music fans and willing to have an enormous experience with premium and high-fidelity sound quality, high-resolution videos, and expertly curated media content.
This software serves as the best music source and works as a bridge to bring music fans closer to their favorite artists. For music enthusiast TIDAL enable them to access and discover new music from massive video and music catalog available on this platform. The extensive catalog of this fabulous program will deliver exclusive content, including the songs featuring the world's top musicians and entertainers and exclusive videos too. This platform also adds up-and-coming independent artists in its catalog to promote talent.
This streaming software is compatible with a wide range of devices and provides you the freedom to listen to your favorite music and tracks conveniently without any interruption. You can freely listen on mobile, desktop, tablet, and network players. TIDAL Desktop also supports Apple devices (iPhone, iPod, iPad), Android system, and PC.
The only mission of this software is to build a reliable platform that unites the fans and artists altogether and create a sustainable industry that values the music and artist. TIDAL Desktop is an excellent platform to promote the young and promising talent because the developers firmly believe that the future of music is only as bright as the next generation who creates it.
TIDAL Desktop is a music streaming application that works on a subscription basis. This clearly signifies that to use this software you will not to subscribe its services first then only you can access the music and video content offered by this platform. You can subscribe to the premium plan for $9.99 per month or the HiFi plan for $19.99 per month depending on your choice and the features you want to access. Although this software has a discount program for students, families, and the US military.
How to install TIDAL Desktop on your Windows Operating System?
TIDAL Desktop is an ideal platform for music enthusiasts as it allows them to enjoy their favorite music and videos on the big desktop screen. To install the PC version of TIDAL on your PC, follow the guidelines and instructions described below.
Step 1: It is always preferred to install this software from the developer's official website.
Step 2: Alternatively, open your browser and search "Download TIDAL Desktop for Windows" in the search box.
Step 3: Now, you will get a list of websites on your search result page. You can select any trusted website like filehorse.com to download the setup file of this software.
Step 4: Once you have downloaded the setup file, follow the step-by-step guidelines and instructions to start the installation process and run this software on your system.
Step 5: After following all the steps, click on finish, and now you can use this fantastic software on your Windows operating system.
You might also like