The Bat download for Windows.
Category: Email clients
Version: 8.8.9
Last update: Jun 5, 2019
OS: Windows
License: trial
What is The Bat?
The Bat! is an advanced mail software offering all the necessary functions to encrypt messages, create and access the address book, view attachments and with powerful filtering system that organizes incoming, outgoing, read, and replied messages by folders, and can also auto-respond, reply with a custom template, forward, redirect, print, or export messages and more.
The most important features of The Bat! support for multiple authentication protocols and encryption while working with mail servers, ability to backup and restore data with settings, address books, folders and messages, parking messaging preventing removal of selected messages without warning, built-in address book, support for Microsoft Exchange using native MAPI protocol or option import messages and address books from popular email clients.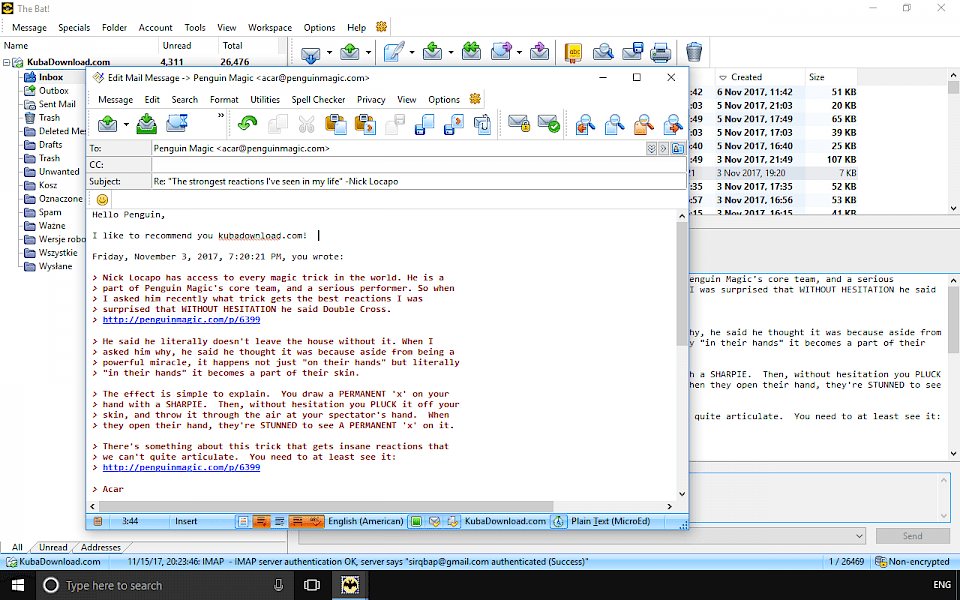 The Bat! browser allows you to view links and HTML content. The viewer supports HTML 4.0 and CSS v2.0 formatting, ignores scripts and executable code preventing viruses from launching. The Bat!'s internal HTML viewer blocks viruses that use the known HTML vulnerability of Microsoft Internet Explorer (such as IFRAME and Automatic Execution of Embedded MIME type).
The Bat! offers support for synchronization of messages, mailboxes, account settings, attachments and address book between two separate copies of the program. You can also download RSS feeds published on websites, blogs, and forums.
All news are automatically collected, combined and displayed in a list, like regular messages. The Bat! offers support for CardDAV protocol. You can sync, add, edit or delete contacts with CardDAV servers including Google and iCloud.
You can enable the On-The-Fly encryption to secure all messages, address books, configuration files on your hard disk. In this mode, unencrypted data never appear on the disk.
On-the-fly encryption uses AES hardware acceleration on modern Intel processors (AES-NI) and produces no noticeable delays. The Bat! protects you against data loss with backup and restore function for all emails. You can also backup configuration settings, address books, folders and messages.
The Bat Alternative
| Software | License |
| --- | --- |
| Mailbird email made easy and beautiful. | freeware |
| Opera Mail e-mail client that allows you to work in tabs. | freeware |
| Mozilla Thunderbird easy to set up and customize e-mail client. | MPL |
Related articles
Brave Browser Review: the future of web browsing