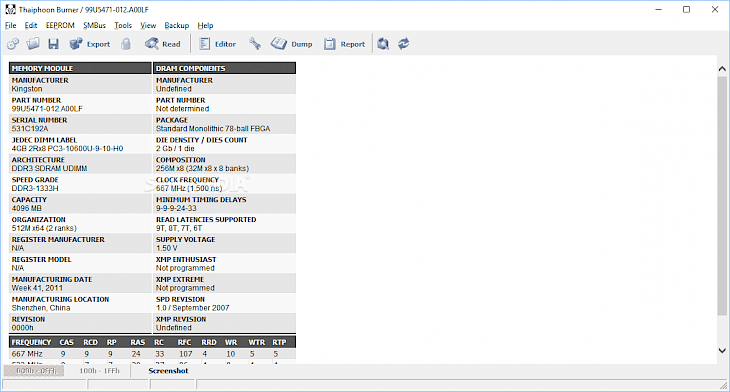 Download Thaiphoon Burner
Do you work with the SPD firmware of DRAM modules frequently? In the tech industry, Thaiphoon Burner is the number one option to work with the SPD firmware of PC DRAM modules. It is planned to meet the needs of end-users as well as companies specializing in the development of memory modules for personal computers. It provides powerful features for SPD EEPROM devices to read, alter, upgrade, and reprogram SPD firmware.
Developed by Vitaliy Jungle, both common JEDEC standards for Serial Presence Detects and third-party improvements, such as NVIDIA EPP and Intel XMP, are entirely supported by the application Compared to other applications, Thaiphoon Burner provides complete reports for any of the following DIMM SDRAM modules: PC SDRAM, DDR SDRAM, DDR2 SDRAM, DDR3 SDRAM, DDR2 FB-DIMM, DDR4 SDRAM, LPDDR3, and LPDDR4. Due to the universal built-in SPD decoding engine, this is accomplished.
Thaiphoon Burner is the first Windows application to discover a new common overclocking trend by directly programming SPD content on the personal computer's motherboard. This removes the need to use EEPROM programming devices for hardware. With the support of Thaiphoon Burner, DRAM module SPD EEPROM devices can be programmed on any home, office, and server motherboard.
Features of Thaiphoon Burner
There are no special devices or skills required for you to work with Thaiphoon Burner. Besides, by enabling the Permanent Software Write Protection feature of the SPD EEPROM system, the Burner is the only method to secure SPD material from being programmed. For DRAM module producers and OEM suppliers, this makes the utility the best option.
The remarkable features of Thaiphoon Burner include the following ones.
Memory Timing Parameter Editor
Thaiphoon Burner enables fast editing of parameters for memory timing without the need to use the Hex Editor, and also provides help for DDR, DDR2, FB-DIMM DDR2, and SPD DDR3.
HEX Editing
The Information Panel of Thaiphoon Burner, in conjunction with the Summary, offers the ability to adjust SPD EEPROM system data registers quickly.
EPP Enhancing
The software provides integration of EPP profiles in compliance with NVIDIA EPP Specification 1.0 for SPD and is built for SPDs with DDR2 SDRAM. It also integrates NVIDIA Enhanced Performance Profiles (EPP) 2.0 support into the SDRAM DDR3 memory module.
Professional XMP Enhancing
Following the Intel XMP specification, Thaiphoon Burner provides a simple XMP extension for SPD. Compatible with SPDs of any DDR3 SDRAM.
SPD Decoding & Browsing
With Thaiphoion Burner, you can build exhaustive reports in compliance with JEDEC's SPD requirements for every form and standard of SDRAM memory sticks. You can use the Internet Explorer browser engine to search and display reports on SPDs in the SPD firmware database that is continuously updated. Also introduced in the new SPD Browser 3.0 is a feature to scan the Micron Technology website for the most recent SPD data in the module component catalog.
Download & Install Thaiphoon Burner for Windows PC
Thaiphoon burner can readily be downloaded from any tech website on the internet free of cost. Once you download it, run the setup installer to get done with the installation process quickly.
Thaiphoon Burner is now ready to be used on your Windows PC as a standalone DRAM SPD firmware manipulator. Enjoy working with memories and editing them!
You might also like