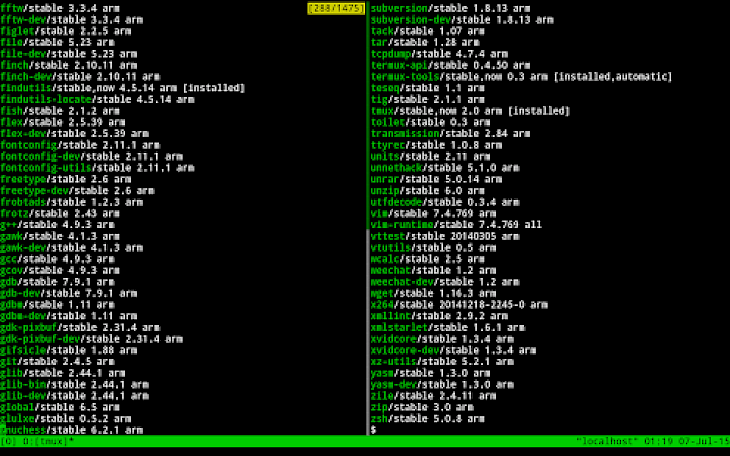 Download Termux App for PC
Are you looking for a free and open code application that stimulates the command and provide Linux and terminal emulator environment in your device? if yes, then you can install the Termux application on your device. Developed by Fredrik Fornwall this application is a useful tool for running Linux commands on your device platform. No rooting or setup is essential to run this application on your device.
FEATURES
Termux offered the bash and zsh shells to its users.
You can manage and edit your files with nano, vim, or emacs.
This application allows you the access the server and performs the activity over ssh.
You can use the python console available on the app as a calculator.
Projects can be checked out with GIT and SVN.
Frotz enables you to run text-based games on your device.
REQUIREMENTS
It is designed No official version of the Termux application for PC but android emulator software helps you to install this app on your system but make sure your system should match the following requirement.
Windows XP SP 3 or higher

Minimum 2GB of RAM

Minimum 4GB of internal memory

Your graphic driver should be updated to run emulator software.

Good internet connection.
HOW TO INSTALL?
For a better experience, you can install this app on your system. For this, you will need to download the android emulator first. Either you are using the Windows or Mac operating system you can run Termux on both systems respectively with the help of an emulator.
There are two methods to install this app in your system. You can download the Termux directly from the Play store by accessing the play store in the emulator and on the other hand, you can download the Termux app in the APK file format from any trusted website.
Follow the instructions and install the emulator or software on your PC.
After successfully installing the emulators, launch the emulator on your system.
Now log in to your Google account in the emulator to access the play store. In case you don't have your google account make the one.
When you successfully log in, search the Termux app in the search bar. A list of apps will display in the search result.
Select the Termux app icon and click on the install
Once done now you can enjoy this app on your system.
Avoid downloading this application from third-party websites you may end up with an older version and may also download a virus. After the installation of Termux, you can add several features utilizing add-ons available such as Termux boot, Termux task, Termux widget, Termux float, Termux styling, and many more.
You may think that if Termux is safe to use and the answer is Yes. This application is developed by considering all the necessary factors that might affect your system. Termux has limited access to permissions. Whether you are working on NodeJS or python you have to connect to servers and Termux offered you various advanced features to perform various actions and operate the commands in a better way.
You might also like