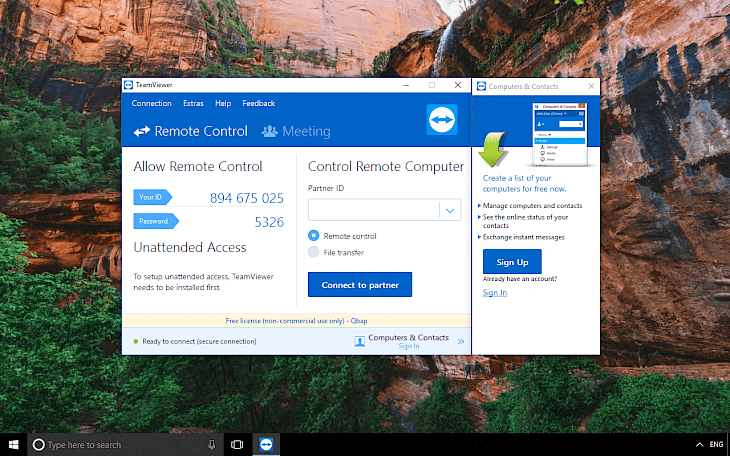 Download TeamViewer
TeamViewer 15 is a freeware Remote Desktop application for Windows, macOS, Linux and Chrome OS. The software can be also used to send files between devices, manage computers and show presentations. There is also available a client for iOS, Android, Windows Universal Platform, and BlackBerry.
TeamViewer is one of the most popular tools to work on other computer via Internet. The application works in mode client server. If you like to connect to the server u need to run the file on your machine and copy the unique ID and password set for your computer. When you will type the date in TeamViewer 14 client you will immediately connect to the system.
You can use TeamViewer 15 also to send big files between devices (transfer speeds up to 200 MB/s), record all things done on the Remote Desktop, create meetings involving 25 persons, work with few persons on a document via Internet or create training sessions. TeamViewer can save also your clients computers IDs for fast connections. Intelligent connection setup and routing, efficient use of bandwidth, fast data transmissions, remote session framerates up to 60 fps, and automatic quality adjustments ensure an optimized user experience.
TeamViewer 15 offers also a build-in communicator allowing you to send text messages. Instant messaging functionality includes group chats, web-based chats, offline messaging, chat history, persistent chat groups, customer-initiated chat from service cases, full support for mobile devices, and end-to-end encryption. You can also record remote control or meeting sessions (including sound, Voice over IP, video, and webcam images) with simple conversion into the AVI video format.
The application can be also used to create voice calls or video conferences. All connections are encrypted with secure protocol. TeamViewer utilizes RSA 2048 public/private key exchange, AES (256 bit) session encryption end to end, random passwords for one-time access, optional two-factor authentication, and access controls via trusted devices as well as black- and whitelists.
You might also like