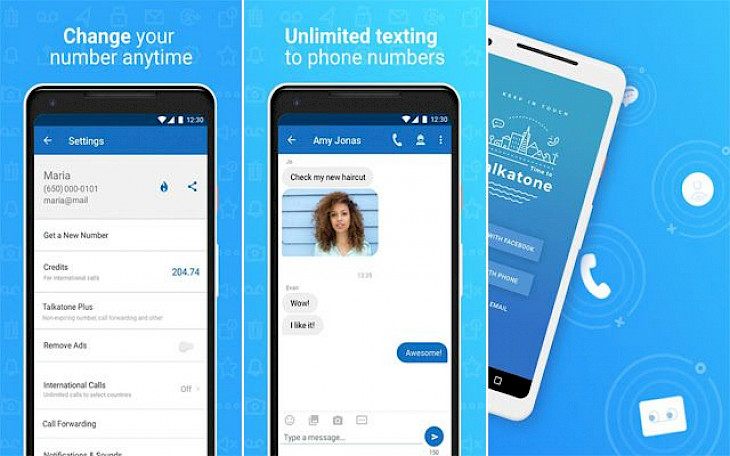 Download Talkatone for PC
Talkatone is one of the popular free communication apps with more than a million downloads. It allows you to interact with anyone on call and text messages. This app is a great way of connecting with your loved ones. You can also create group chats and call multiple people at the same time by using this app. Talkatone is developed by Talkatone Llc. You will need a good Wi-fi connection or cellular data to make free calls and text to any U.S and Canada number. In this article, you will get to know about Talkatone and how you can install this application on your PC.
FEATURES
Free call and text
Once you registered successfully in the app you can get a free US/Canada number of your choice and you can use this unique Talkatone number to call your friends and family. To make a call make sure your Wi-fi or internet connection must be working. along with unlimited calls, this application offered you to broadcast a message and send a private message to anyone. Free burner is a quite popular feature among users and it allows you to change your number whenever you want to.
Share image
Without degrading the quality of an image, this application enables you to share the pictures with your friends and family.
Low-cost International Calls
If your internet connection is not working properly and you want to make an international call then you can do this by using Talkatone. This app charged cheaper rates with better quality as compared to telecom companies.
Other Benefits
For personalization, Talkatone allows you to update your name and add a signature while sending a text message. The blocking feature is also available and you can block unwanted calls and messages. For security purposes, you can lock your Talkatone when you are not using it by setting a passcode.
HOW TO INSTALL?
Talkatone is not available for PC but you can use this application on your operating system by using any android emulator software. There are many developers in the market who have developed and designed android emulators to run android applications in Windows or Mac. Bluestacks and Nox App Player are the most popular and reliable emulator software. To install Talkatone on your Windows or Mac operating system the step by step procedure is described below:
As you know that an android emulator is required to run any android application on a PC, download the emulator. Follow the instructions and install the emulator or software on your PC.
After successfully installing the emulators, launch the emulator whichever you have installed either blue stacks or nox
Once it has launched on your PC, open the Play store app in the same, and log in with your Google account. In case you don't have your google account make the one.
When you successfully log in, search "Talkatone" in the search bar of the Play store. A list of apps will display in the search result.
Select Talkatone and click on the install button.
Once done, use this wonderful application on your system to enjoy connectivity with the world.
You might also like