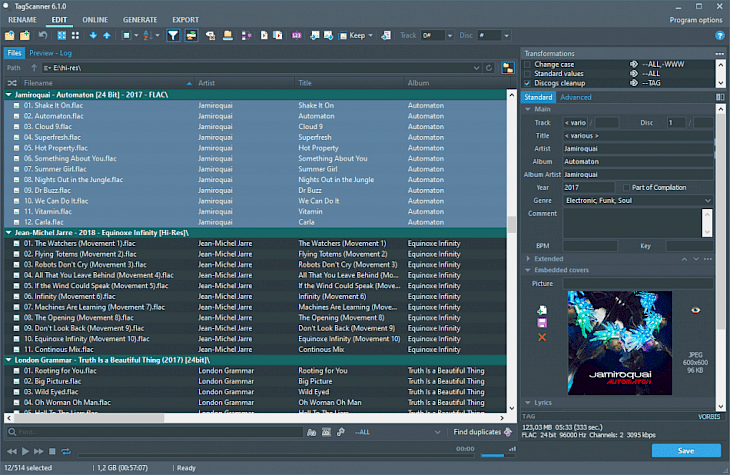 Download TagScanner
If you are a music lover but have a highly disorganized music library, then TagScanner will be a powerful tool for you. TagScanner is an excellent application used to organize and manage music files or collections. This fantastic software's advanced configuration setting allows the users to batch rename the ID3 tags of their audio files based on their personal preference.
The interface provided by the software is well-structured and displays various features in an organized manner. Hence, it would be convenient to explore this platform without having prior experience. TagScanner can create a playlist and save it in an external file in various formats such as HTML, Text, and more. You can preview the changes you have made and re-check the details to ensure that correct information should be saved and processed.
This software's multilingual interface has an in-built audio player that consequently enhances the user experience and convenience. TagScanner allows the users to rename and edit the tags of their favorite audio or any audio file. You can also change the genre, comment, album title, and song name according to your interest and choice.
TagScanner is an ideal music organizer and beneficial for those who love to have a neat and organized music library and can manage their audio files by considering their preferences and music taste.
FEATURES
Powerful multiple files tag editor.

Generate tag information from the files or folder names.

Rename the files based on the tag and file information.

Tag field formatting and rearrangement.

Import album information and covers from an online database such as Discogs.

Words replacement and case conversion from the tags and filenames.

Support Mp3, WMA, MPEG-4, Opus, Monkey's audio, Musepack, AAC, SPEEX, WavPack, TrueAudio, WAV, Direct Stream digital files.

Quick analysis creation.

Supports for embedded lyrics and cover art.

Resize the cover art for the portable device on the fly.

Supports various ID3 tags, such as 1.0/1.1/2.2/2.3/2.4, Vorbis comments, WMA tags, and Mp4[iTunes] metadata.

Export information to HTML, XML, or any user-defined format.

TAGS version conversion

Full Unicode support.

Inbuilt audio player
How to install TagScanner on the Windows Operating system?
TagScanner is a fantastic tool and will help the user to have an organized and managed audio library. You will not need to waste your time choosing your favorite track, just pick it from the organized playlist and have an enormous experience. The PC version of this software is available easily on various online platforms. To install this fantastic software on your Windows operating system, you will need to follow the instruction described below.
Step 1: You can download TagScanner by visiting the developer's official website.
Step 2: Alternatively, open your browser and search "Download TagScanner for Windows" in the search box.
Step 3: You can choose any trusted websites like filehorse.com from the search result page to download this fantastic game.
Step 4: Once the downloading is completed, click the setup or .exe file twice to start the installation process.
Step 5: Follow the instructions and guidelines very carefully.
Step 6: When the installation process complete successfully, you can now use this amazing software on your system to have a neat and organized music library.
You might also like