Download SynthEyes Pro
SynthEyes is a app for 3D camera tracking, that can look at the image sequence from your shoot and determine how the real camera moved. You can also use the app to track objects moving in the scene. The software was used in Stranger Things 2, Jack Reacher: Never Go Back, The Purge: Election Year, Captain America: Civil War, Mr Robot.
SynthEyes offers 3D tracking, stabilization, motion capture and set reconstruction. It handles camera tracking, 2D and 3D planar tracking, object tracking with or without a reference mesh, secondary tracking, geometry and geometric hierarchy tracking, survey shots, multiple-shot tracking, mixed tripod and translating, zooming, stereoscopic, nodal stereoscopic shots, lens distortion or light solving.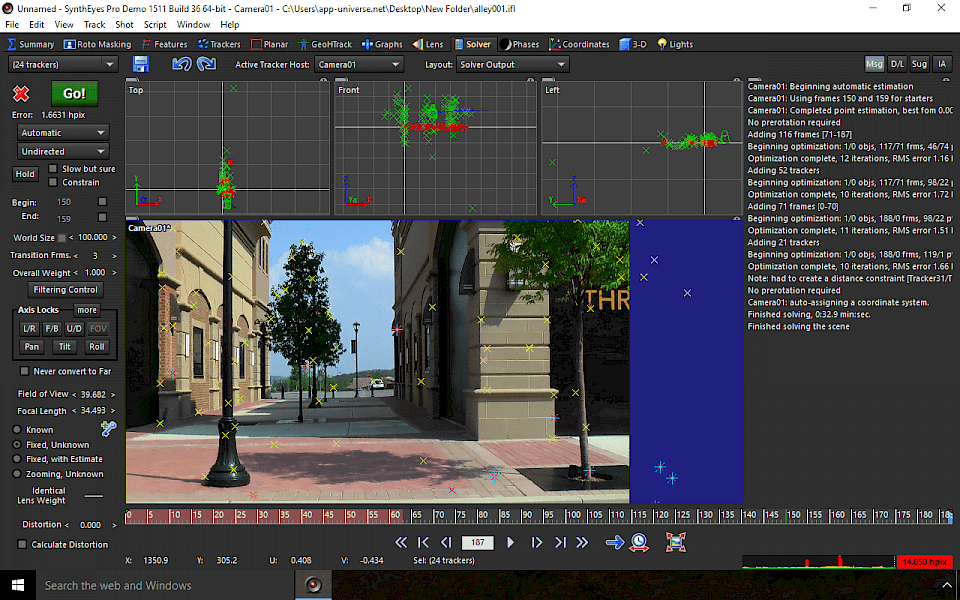 A keyer simplifies and speeds tracking for green-screen shots. The image preprocessor helps remove grain, compression artifacts, off-centering, or varying lighting and improve low-contrast shots. Meshes can be built from tracking data, and their textures extracted from the image sequence, producing higher resolution and lower noise than any individual image.
SynthEyes offers complete control over the tracking process for challenging shots, including an efficient workflow for supervised trackers, offset tracking, combined automated/supervised tracking, cross-camera constraints for stereo, a hard and soft path locking system, distance constraints for low-perspective shots, rolling-shutter compensation and incremental solving. A solver phase system lets you set up complex solving strategies with a visual node-based approach.
Included exporters for After Effects, Alembic ABC, AutoCAD DXF, Bentley Microstation, Biovision BVH, Blender, Carrara, Cinema 4D, COLLADA, Combustion, Electric Image, Filmbox FBX, FLAIR, Flame, Fusion, Houdini, Inferno, Lidar XYZ, Lightwave, 3ds Max, Maya, Mistika, Modo, Motion, Nuke, OBJ meshes, Particle Illusion, PC2 Point Caches, PhotoScan, Poser; Realsoft 3D, Shake, Smoke2008, Softimage dotXSI, toxik, trueSpace and Vue.
You might also like