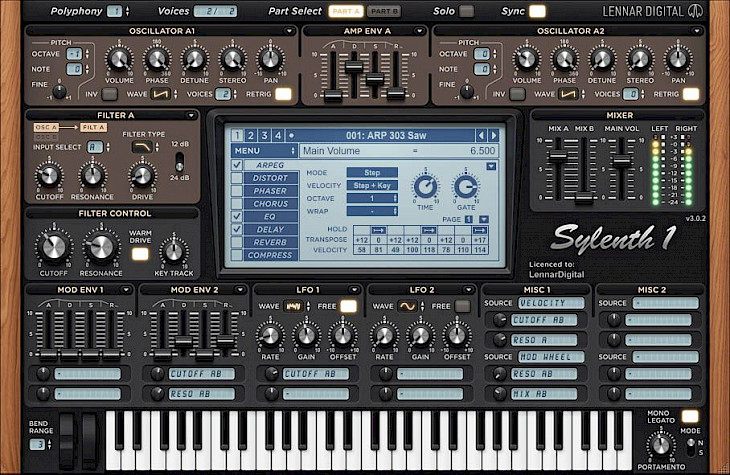 Download Sylenth1
Sylenth1 is a favorite in the virtual music world. It was created by music producers for music producers you can be sure of its finesse as a software synthesizer. Its high-quality music tools are of great assistance to engineers spanning across all spheres of the music world. It is a virtual studio technology plug-in. So if you are a religious creator of musical content and have a pre-installed VST powered application, then Sylenth1 is your go-to plug-in. It functions as an analog synthesizer equipped with four power oscillators. The combinations of these oscillators create such rich quality of music that it is at par with a real-life synthesizer. Sylenth1 is widely acclaimed by artists all over the world. Martin Garrix, Skrillex, and Avicii have all acknowledged the power of Sylenth1 by using it in their musical endeavors.

Key Features Of Sylenth1
Four Unique Oscillators
As mentioned earlier, Sylenth1 integrates four unique oscillators in its circuit. These oscillators can give a combination of a whopping 512 sounds! This is possible because each oscillator in itself is capable of producing eight analogous waves. Imagine the power you have now. You can add a tinge of each intricately built filter and produce solid tunes that are guaranteed to give goosebumps. These oscillators are divided into two sections that can in turn be fine-tuned. The possibilities are just endless.
Excessive Modulation
You can craft a sound that piques your interest by playing around with the modulation options. With two ADSR envelopes and two LFO's in addition to two extra amplitude envelopes, the analog synthesizer is heavily laced with modulation effects. You can toy around with these effects using the keyboard track or the modulation wheel.
Master Effects Section
Sylenth1 has an expansive LCD panel that houses seven mammoth audio effect options in addition to an arpeggiator. Distortion, phaser, equalizer, compressor, flanger, reverb, and delay are the surface level names on this panel. These in turn consist of a whole another panel of options to give your music a unique edge so as to differentiate it from other similar sounds. If you ever download this software, you will be awestruck by this master effects section. It is where the magic happens.
System Requirements Of Sylenth1
The following requirements need to be fulfilled before installing the software:
It should have the Windows 2000/XP/Vista/7/8/10 operating system (32- or 64- bit)

The embedded processor should be Intel Pentium III or AMD XP with SSE support
How To Download It On PC
You will find a download button here. Click on it.

You will be directed to another page where you will find another download button. Click on this in order to initiate exe file download.

Once the download completes, run the setup on your system. Follow all the installation instructions that appear on the setup window.

When you reach the end of it, Sylenth1 will finally get installed on your system
You might also like