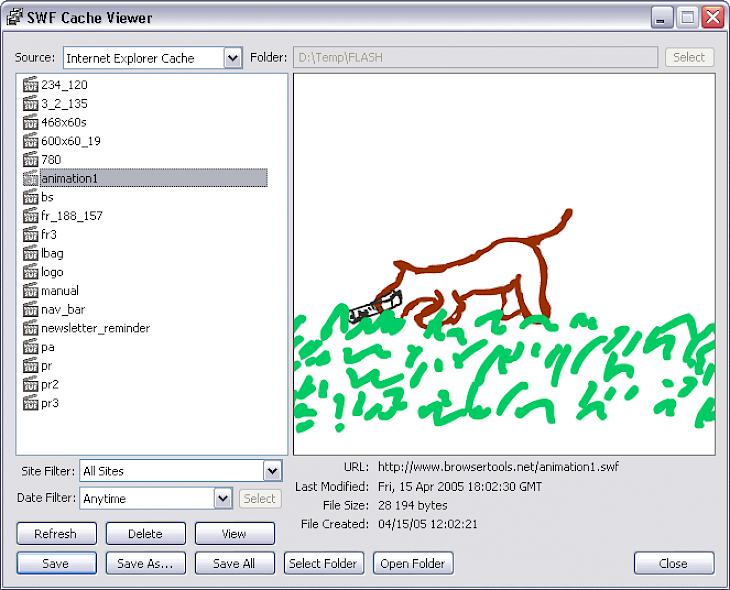 Download SWF Opener
Have you ever come across an impressive animation or applet but could not open the file on your computer because it was in SWF file format? SWF is a file format by Adobe Flash and can be used for vector graphics, multimedia, and ActionScript. SWF is short for Shockwave Flash and was the traditional way to provide individuals with interactive content. These files can contain applets or animations of varying levels of function and interactivity.
To access these files and view them or use their features, you will need an SWF player for your Windows PC. For this purpose, we recommend SWF Opener. SWF Opener is a solution to the problem of displaying all formats of movies, clips, or games in Adobe Flash, based on Microsoft Windows. It can open flash video content for you to view without having any internet connectivity. Additionally, it reads the meta tags of the SWF files as well.
SWF Opener helps you to monitor playback, change the background color, set scale modes, and go fullscreen. SWF Cache Viewer, a program to view and save Flash movies that are cached by Internet Explorer and Mozilla Firefox, comes with the program. This freeware product can be useful for watching Flash FLV and H.264 (MPEG-4) video files downloaded from YouTube, for example.
Developed by Unh Solutions, the latest version 1.3 of SWF Opener is a great way to display classic flash content because a lot of modern computer devices no longer come with flash media. Many web developers are no longer creating as much flash content for the internet, but you may come across some websites that still use it.
Features of SWF Opener
SWF Opener is designed to showcase its own set of unique features that contribute to the pros of the software. These features have been detailed below.
Simplistic Yet Effective Interface
Even though the SWF Opener software has a plain interface, it is intentionally kept that way to make the file size of the software much smaller. This makes it easier to port and install on your PC. The interface is designed to reduce lag while you play your favorite SWF movies.
Highly Compatible
For modern computers, the operating system specifications are not that strict. You just need to have the .NET System installed on your device and the Shockwave Flash Object. If you have a modern PC, then it ought to be on it already. The player can read six distinct kinds of metadata tags. These are the signature tags that offer the author's details. The frame rate, file length, frame count, and version number include other information it can provide.
Comprehensive Usability
It's effortless to use SWF Opener. Here's how. After it is downloaded to your machine for free, go to the File menu and pick the Open option. Find the SWF file you'd like to open. Details about the metadata tag will be displayed in the message box. To see the flash content or start playing the flash game in the browser, press 'Play'. By pressing F11, you can switch between window mode and full-screen mode.
Download & Install SWF Opener for Windows PC
Download SWF Opener for Windows PC
SWF Opener 1.3 can be downloaded from multiple retail websites on the internet free of cost. One thing to be kept in mind is to not confuse this software with other SWF players available in the market. Once you find the suitable file to download, start downloading it.
Install SWF Opener for Windows PC
After the executable file for SWF Opener is downloaded on your PC, run it by double-clicking on it to open the installer.
Once the installer pops up on the screen, click on 'Next'.

Follow simple on-screen instructions from the installer to start the installation process.

Click 'Finish' once the installation ends.
You can now use the SWF Opener to open and play all types of SWF files on your PC. Enjoy watching animations and running applets from Flash!
You might also like