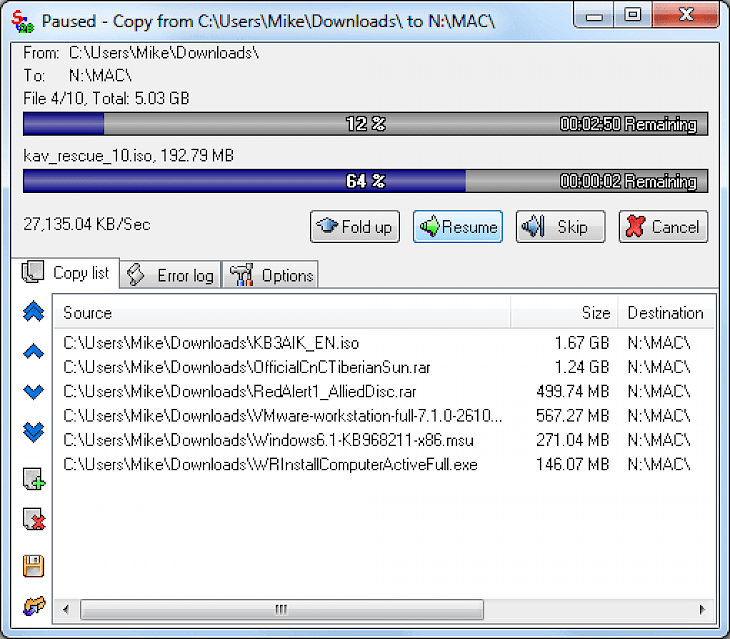 Download Supercopier (64-bit)
Sometimes it is quite challenging when you copy multiple files together because when you do so the default behavior of your windows does not offer too many options like a resume or control the speed. Supercopier 64-bit is an excellent and beneficial file management tool that makes sure that you can always deal with all manner of files.
Developed by Brule Herman, Supercopier 64-bit is a fantastic application that enables the user to take full control over the file copying, transferring, or moving any amount of computer files from one location or folder to another. This is the best application for those who want to handle files in their operating system especially batch processing of the files.
The software provides a simple interface with a wide array of very useful tools that make this application one of the most flexible dedicated file transfer applications.
Supercopier enables the user to copy files from the e-location to the other folder or location of your choice. This excellent application helps you to even schedule a batch processing of files by using the advanced setting. The drag and drop functionality offers you to just get files efficiently and effectively. You can use this platform to handle all manner of simulation functions in just a few clicks. As the name suggests, this will be a useful tool that helps in copying files as a batch or even single ones. You can always deal with this tool despite your level of experience.
FEATURES
Fantastic tool and a one-stop solution for reliable and highly customizable file transfers.

This application takes full control over the copying, moving, or transferring of the files on your PC.

The interface is fully featured an error console, behavior tools, and worklist management.

Supercopier is small and lightweight on resources.

The software is created in an open-source environment.

The user-friendly interface is easy to use and saves the users time.

You can overwrite the files, cancel, remove, pause or transfer if wanted.

You can conveniently and easily modify the forefront, background, model, and border colors.

You can skip a file transfer otherwise.
How to install Supercopier on your windows operating system?
Supercopier 64-bit can be used for both personal and commercial use and can be used on any device or PC. With an easy installation process, you can also download the PC version of the software from any trusted website. To install this software on your windows operating system you can follow the instructions and guidelines described below.
Step 1: It is always preferred to install this software from the developer's official website.
Step 2: Alternatively, open your browser and search "Download Supercopier for Windows" in the search box.
Step 3: Now, you will get a list of websites on your search result page. You can select any trusted website like filehorse.com to download the setup or .exe file of this software.
Step 4: Once you have downloaded the setup file, follow the step-by-step guidelines and instructions to start the installation process and run this software on your system.
Step 5: After following all the steps, click on finish, and now you can use this fantastic software on your Windows operating system.
You might also like