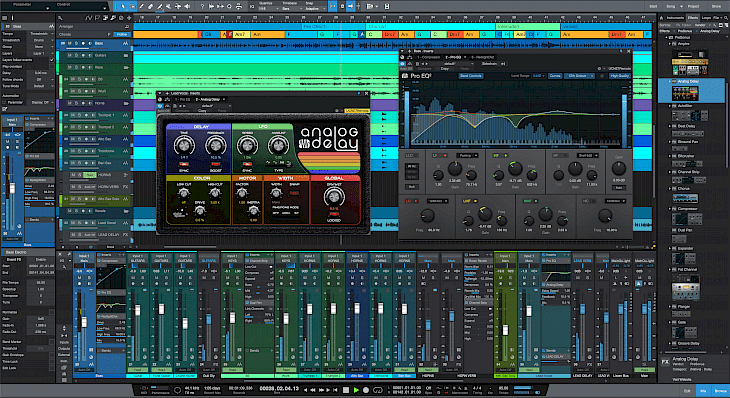 Download Studio One
Are you a music maker or a DJ or simply a music enthusiast? Do you work with music and audio editing regularly? Use Studio One to ease your workflow and create exceptional audio tracks in an instant. Studio One is a digital audio workstation (DAW) application that is used for making, capturing, mixing, and mastering music and other audio, with video features also available. It is developed and available for macOS and Windows by PreSonus Audio Electronics Inc.
Studio One provides many features and tools to make the production of music a click. With the ease of use at its core, Studio One was planned. The time-tested and validated recording studio model is seamlessly coupled with today's beat and loop-oriented development process so that you can bring musical ideas to sonic fruition faster than ever before.
There are infinite numbers of tracks, intuitive editing tools, and advanced virtual instruments in a useful single-screen GUI. Instead of wondering what to click next, spend your precious time making music. How you work or what you work on, Studio One Pro doesn't decide.
Features of Studio One
In addition to its other features, Studio One provides basic features common to most digital audio workstation software, such as the features found in multi-track recorders and audio mixing consoles, plus additional analog recording functions that are not feasible, such as undoing previous actions, editing without loss of information, use of virtual instruments, etc.
The exceptional features of Studio One include the ones mentioned below.
Simple, Organized User Interface
You see your progress on a splash screen. You can access available videos or demonstrations from here, change hardware configurations, view projects/songs, or learn new skills. Many resources in the music project windows let you create or edit music tracks. In one window, all the resources are organized together, which makes accessibility very easy. You can click on the tool you need only once. It makes efficiency quicker.
Creativity Enhancing Tools
With this application, there is a range of resources included that help to simplify the creative process. Since this utility is designed for ease, by using the Scratch Pad and Arranger Track tools, you can appreciate one tool that allows you to rearrange parts of songs.
All-in-One Bundle
Instruments, effects, samplers, synthesizers, and loops are other valuable tools included in this application. To easily make your tracks sound even better, you can edit these properties. Only check out the upper right section on the Interface, and you can see these tools in the panel there. The panel lists several resources, so extend the panel to handle it better.
Download & Install Studio One for Windows PC
Studio One is premium software that can be downloaded from the official PreSonus website for a 30-day free trial. You can also get it from any other affiliate website. Once downloaded, install the software by running the setup installer and you are good to go.
You'll want to have StudioOne Professional on your machine if you feel lost in your song production efforts or have to deal with many windows at once. Enjoy creating and editing audio!
You might also like