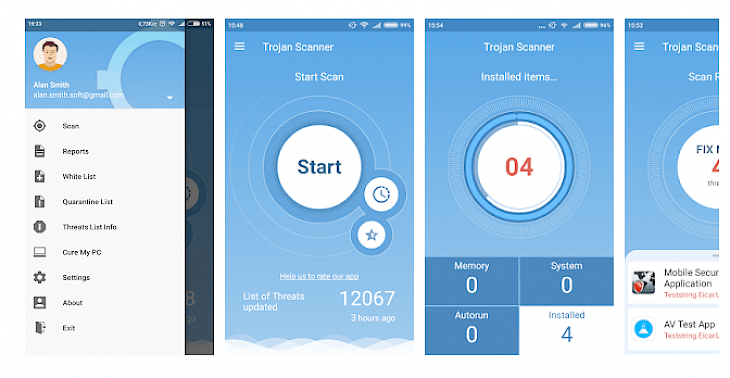 Download Stubborn Trojan Killer for PC
Viruses and malware damage your android device by stealing information and sending unwanted SMS, they make your phone slow or completely useless. To avoid unwanted malware and protect your device you can install Stubborn Trojan Killer. This is a free antivirus application tool developed by Cheetah mobiles.
Stubborn Trojan Killer is an extremely useful application that secures your device from online vulnerabilities. There are some harmful apps and websites that affect your ROM and track your identity and personal information. You can enable Stubborn Trojan Killer in the background while browsing and protect your device from malware and harmful viruses.
This application is launched to protect its users from cybercriminal activities because trojan is a deadly virus and third-party users including hackers use this malware to steal a person's IP address.
FEATURES
Best service
To provide the best safety and data protection this app allows you to scan and delete viruses and if you face any issue while using the app then immediate online help will be provided.
Free virus protection
Usually, it is quite difficult to find a free antivirus application and you can use this enormous Stubborn Trojan Killer app without paying a single penny.
Easy-access
This application is easy to use and you can scan your device or system in just one touch. If scanning detects any virus then immediate action is taken to remove this harmful malware from your device.
HOW TO INSTALL?
Stubborn Trojan Killer is designed for smartphones but you can install this application on your PC. This app is available on the google play store and makes sure you download it from the same because few websites may trap you by providing a pirated copy of this application which may damage your system or device. Before downloading this antivirus application, you will need to install the android emulator first. Bluestacks and Nox app player are the most reliable and popular emulator software and you can install any of them for the ultimate experience.
Step 1: To download, follow the instruction and keep clicking on the Next button. After successfully launching the Bluestacks/Nox app player click on the finish button.
Step 2: Now you have to fill some startup forms which include entering Gmail id and selecting the language. It is compulsory to log in to your google account to download apps from the play store.
Step 3: Once you have met all the requirements you will be redirected to the home page or screen of the emulator software.
Step 4: To start google play store services, click on the play store icon.
Step 5: Search "Stubborn Trojan Killer app" in the search box.
Step 6: Select the app icon from the search result page and click on the install button.
For fast installing of the application make sure you have a good internet connection. After successfully installing the app now you can enjoy the advanced features of this antivirus application and protect your system from third parties, viruses, and malware that not only damage your system but also steal your information and identity.
You might also like