Start StrokesPlus download now, for free!
Category: Other accessories
Version: 2.8.6.4
Last update: Aug 20, 2017
OS: Windows
License: freeware
What is StrokesPlus?
StrokesPlus is a free application that adds support for mouse gestures in Windows system. The program offers built-in database of mouse gestures allow to improve the daily work with the system.
The application is equipped with a simple system to create mouse gestures associated with the operating system or selected applications. The process of adding new gesture is limited to paint the movement of the mouse, naming gesture and assign modifier and select one of the available shares. More advanced users can also write their own scripts in Lua.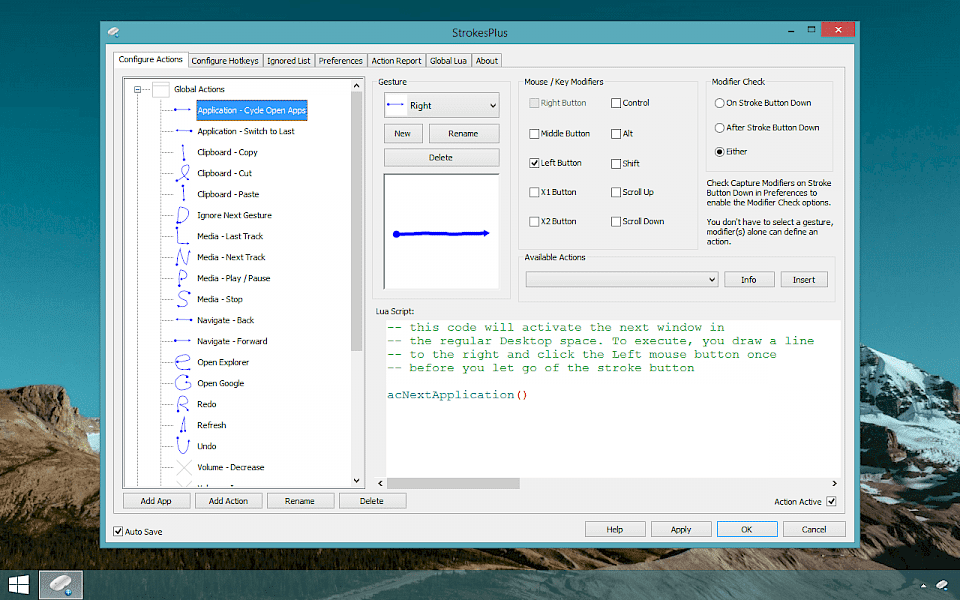 After the correct application configuration programmed the user can operate the mouse gestures. StrokesPlus allows you to automate both simple operations are performed via the keyboard as copy and paste, as well as more complicated in the start menu programs, terminating active windows, shutdown system, delete files, duplicate bookmarks, play the next song, etc.
StrokesPlus also equipped with scroll function inactive windows in Windows. On the project there are several sample scripts upon which we can build our own solutions.