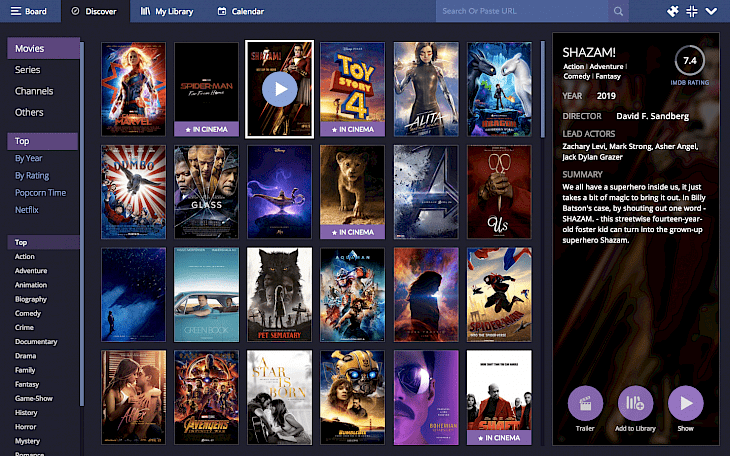 Download Stremio
Stremio is a free app to watch movies, TV shows, series, live television from your desktop. Discover, organize, and watch video from all kinds of sources on any device. There are also add-ons for Torrent streaming, YouTube, Netflix, and Twitch.tv support.
Feature highlights from Stremio include an option to continue watching movies, series, or videos at a point where you left, get notified of new episodes and releases, browse through the recommendations you will get based on your viewing habits.
Discover new films, TV shows, series, and channels to watch and browse by category, genre, rating, recency, etc. or simply type a name to find. Stremio download links are available for all major desktop platforms.
The library allows you to add any title to your library with a single click. You find your way around your content, neatly arranged by type, recency, or alphabetical order. There is also a calendar visualization of all the movies and series you add to your library so you will never miss your favorite show or movie.
You have even export calendar and sync it so you always know when a new episode or a premier go air.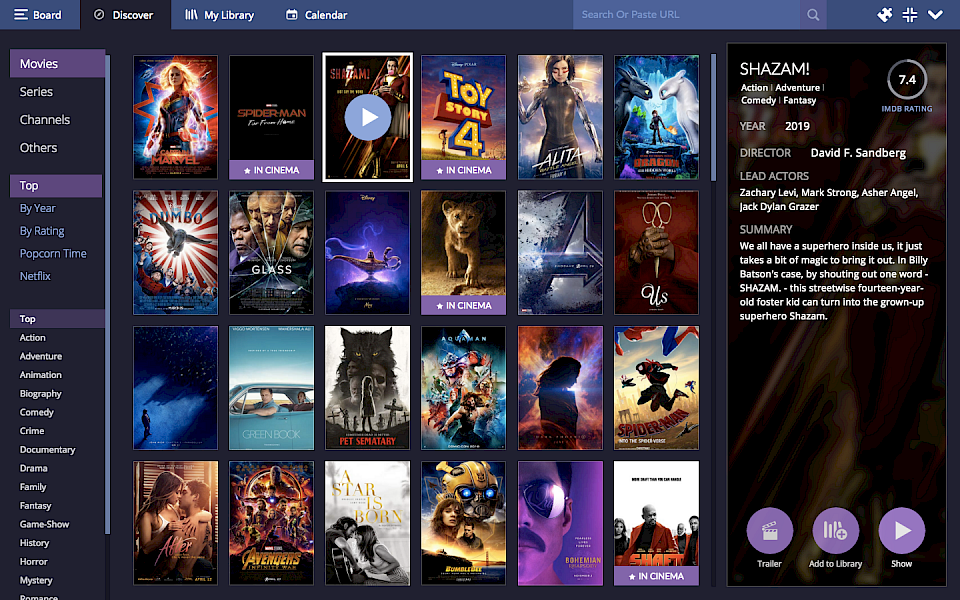 Stremio offers an option to rent films from popular services including Amazon Prime, Google Play, iTunes, YouTube, or PlayStation.Store. Every film description includes IMDB rating, duration, cast, genre, etc.
You can also watch a trailer. The video platform offers also support for add-ons. Extend the features of the app by installing add-ons like Juan Carlos 2 for torrent streaming support, OpenSubtitles for an option to download subtitles, and much more.
I think that Stremio is one of the best apps to download movies on Desktop. The software is easy to use and allows us to download stremio add-ons directly from the interface. You have access to the official addons offering support for YouTube video, downloading subtitles from OpenSubtitles.org, and play local files.
The community add-ons offer more exciting features. Every Series are available in a list of Seasons where you can select episodes.
Movies

In movies tab available in the program we have a list of popular films. Sort the results by year, rating, or categories like comedy, drama, action, adventure, family, horror, history, biography and so one.
Add your favorites movies to the library to have quick access to them later, watch trailers, read basic information about the movie like the cast, director, year of release and description. Stremio displays also information when a film is available in Cinema.
Stremio offers access to the topmost rated TV shows.
Youtube
The movie program aggregates also popular YouTube Channels. You watch your favorite video directly in the app. No need to download different software. YouTube displays top channels, and categories like comedy, from TV, Gaming, Lifestyle, Music, Sports and more. Add your preferred channels to library and download or play everything you like.
Calendar

The calendar is a great feature to organize and explore upcoming TV Shows. Be notified when your favorite TV-Shows will air and don't miss any new episodes.
Navigate through all month and specific days. The app will notify you about new episodes so you will never miss your show. Calendar works via favorites. Everything that you add to favorites will be automatically added to the calendar.
You might also like