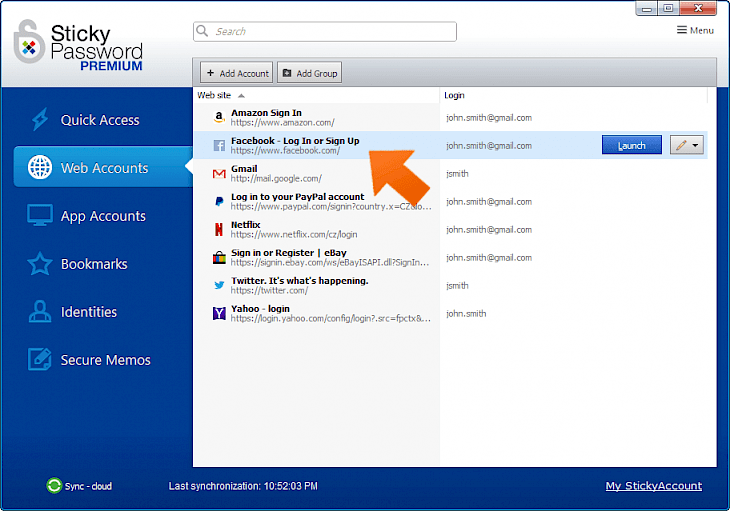 Download Sticky Password
Do you have a habit of forgetting the multiple passwords that you have for various online products that you use? Are you looking for a one-stop solution to this annoying problem once and for all? Then we reckon you should use Sticky Password for storing all your passwords safely and securely for easy access whenever you need them.
Developed by Lamantine Software, Sticky Password 8.2.3.43 aids you in putting a full stop to forgetting passwords ever again, auto-filling forms successfully, and using your passwords as and when you need to, safely. Sticky Password is a free password manager and protected digital vault that is powerful yet easy. Remember just one instead of hundreds of passwords. All else is filled in by the Sticky Password automatically. It's simple to use, and it's absolutely stable.
A secure database that is encrypted using AES-256 - the world's leading encryption standard - is the essence of the Sticky Password solution. The auto-lock password database - on your computer, tablet, and smartphone - protects you when you're away from your laptop from curious eyes. And it's all your Master Password safe, which only you know.
Features of Sticky Password
With its plethora of features, Sticky Password helps you both save your time and keep you safe online. The features have thus been detailed here.
All Your Logins & Passwords in One Place
Sticky Password remembers all your logins, passwords, and much more so that you don't have to. Instead, all you are required to do is remember just one - the master password.
Automatic Form Fill-Up
The Sticky Password tool automatically fills out online forms for you and logs you in without your manual intervention. It does this by remembering all your data.
Strong Password Generator
Each time you open an online account, Sticky Password generates a strong password and saves it for you. The strong password generator produces and stores passwords, strength, and reuse of which are reflected in your dashboard reports.
Data Encryption
Sticky Password keeps all your data encrypted using AES-256, from your credit cards to your private notes. The tool even allows you to sync these encrypted data across all your connected devices.
Download & Install Sticky Password for Windows PC
Download Sticky Password for Windows PC
Sticky Password can be downloaded easily from various websites across the internet or even from their official website. After the download from a reliable source finishes, you can double-click on the setup file to run the installer.
Install Sticky Password for Windows PC
The installer should appear on the screen once you run the setup file. Now, you need to follow the simple instructions below to complete the installation process.
Click on 'Next' and agree to their User Policy.

Let the installation process start and gradually finish.

Click on 'Finish' once the above process is completed.
Now you are all set to freely save your passwords and much more on Sticky Password and forget them the moment they are created. While it lacks advanced features such as digital inheritance and password breach checks, Sticky Password does what you'd expect from a password manager. Your passwords never leave your home network if you select their free, no-cloud Wi-Fi sync.
You might also like