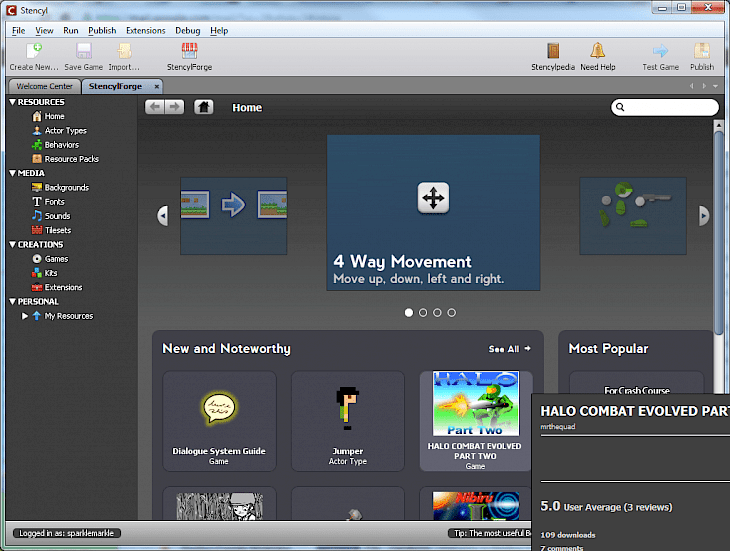 Download Stencyl (32-bit)
While playing a game, you may think about creating your own. Various software facilitates you to create your own 2D game for various platforms, including Android, Windows, iOS, and more. Stencyl is one such software with a fantastic platform that allows the users to create a game and provides all the essential tools and features required in game development.
The interface of this game creation software is easy to understand, all the tools and buttons are well organized. You will not require any prior knowledge to use this platform. If you have no idea about coding but used graphics tools like photoshop, you can access the scene designer and other relevant tools like zooming, grid-snapping, flood-fill, and more. Stencyl enables the user to create amazing games without code.
FEATURES
Game studio in a box
Stencyl is not like the other average game creation software. This platform's intuitive tools accelerate your workflow and guide the user to create an amazing game on their own without coding.
Publish Everywhere
When you invest your efforts in creating the game, you obviously want other players to use or play your game. With extensive platform support, Stencyl assured that all player has access to your games. Hence, this software supports Android, Windows, Mac, Linux, iOS, Flash, and HTML5.
The Drag & Drop Interface
These simple drag and drop features enable the user to move things around till you make the game you wish to make by adjusting all the tools according to your personal preference.
Write code if you want
If you know to code, this platform allows you to create and share your own blocks, extend the engine through code, import libraries and write your own custom classes that interact seamlessly with block-based behaviors.
Build worlds
For the users who are used to graphic editors' tools like Photoshop, you will find the Scene designer convenient. There are various features that you may find familiar including, zooming, selection tools, grid-snapping, and flood fill will help you to craft a complex world out of Tiles, Actors, and Terrain.
Sell your game
You can bring your games to the platforms like App Store, Google Play, or alternate stores like Steam to make money and reach millions of players.
How to install Stencyl on the Windows operating system?
Stencyl is a perfect platform for those who want to use their creativity and willing to design their own game. Fortunately, the PC version of this software is available easily. To install this fantastic software on your Windows Operating system, follow the instructions described below.
Step 1: It is always preferred to download the software from the official website. To visit the Stencyl site, click http://www.stencyl.com/.
Step 2: Alternatively, open your browser and search "Download Stencyl for Windows" in the search box.
Step 3: You can choose any trusted websites like filehorse.com from the search result page to download this fantastic game.
Step 4: Once the downloading is completed, click the setup or .exe file twice to start the installation process.
Step 5: Follow the instructions and guidelines very carefully.
Step 6: When the installation process completes successfully. You can now this excellent software to create your game on your PC.
Stencyl is available for 32-bit and 64-bit Windows platforms and provides a free trial period to the users.
You might also like