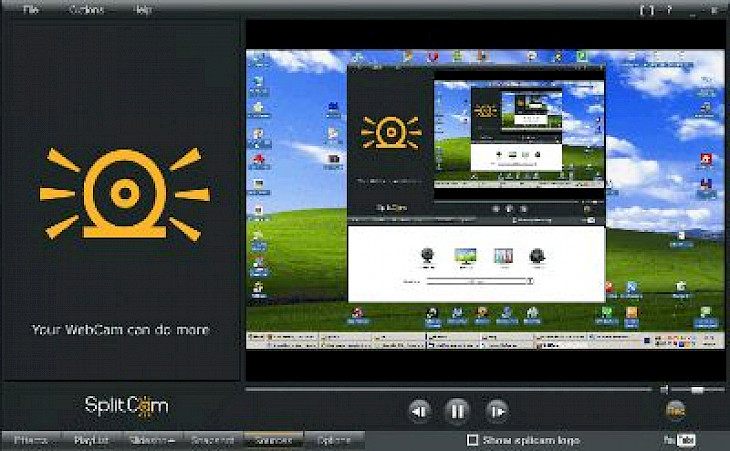 Download SplitCam
Have you ever wondered how your friends manage to appear in the group video call with a quirky video filter that makes them look like a pirate? You surely must have wished that you could do the same. What if someone told you - you could do that and even split your webcam to chat with multiple groups at the same time? Yes, you heard that right! SplitCam enables you to do all this and much more.
Developed by the SplitCam Team for Windows and macOS, the Splitcam software is currently available in its latest version 10.4.63. The name 'SplitCam' is made up of two words - split and camera - which tell us its primary use - to split your webcam broadcast into multiple applications. With this powerful broadcaster software, you can easily stream to Twitch.tv, YouTube, and Facebook at the same time directly. That too, with minimum load on your CPU!
Here in this article, we tell you more about the features of SplitCam and how you can download and use it effectively.
Features of SplitCam
As stated before, SplitCam lets you stream directly to multiple streaming platforms simultaneously without putting a lot of pressure on your CPU. You can even add effects to your live stream, and add webcams, screens, or games.
The software was initially intended to address an issue with the exclusive use of webcam applications in the Windows operating system. Nevertheless, ever since then, the software has evolved to provide a plethora of features that have been enumerated below.
Multistreaming Platform
With a very low effect on your computer's CPU and GPU, SplitCam allows you to relay one live stream to multiple streaming services at the same time.
Virtual Webcam
Split to several outlets and without getting a "webcam busy" error, feel free to use your webcam in many applications. You can use any video source to combine with your webcams, such as screen, video files or images, and split to any software you like at the same time.
Switching Between Scenes
With multiple video and audio sources, you can build several different scenes and toggle between them during your broadcast or break your video.
Audio Mixing
Any sounds in the system, such as speakers, music sounds, audio tracks from video files, outgoing or incoming machine sounds, and any other sources of audio, can be blended and tuned. All these sounds can be transmitted to your broadcasts after mixing.
Tip Notifications
You can set up a tip notifier at SplitCam. You will receive a notification having a static or animated image, a text showing the sum of a tip, the name of the tipper, and a thank-you message when a tip notifier is set up. Each of the notification components is optional and can be separately configured. Also, the size and location of the tip notice can be configured.
The tip notification is a feature of your stream, and all of your viewers can see it. The display of this notification will hopefully allow other viewers to donate to your stream.
Adding Videos & Images to Stream
You can add numerous images or videos to your stream, adjust their canvas sizes and locations, change color, contrast, and brightness settings as well.
Desktop Screen Sharing
Share or record a live desktop screen to deliver it to your streaming platforms or virtual video drivers. For your video calls, streams, and videos, SplitCam allows you to pick your PC screen as a video source. Your entire screen, individual applications, custom areas, windows for games, or minimized windows can be captured.
Slide Shows
You may include images or photos in your stream using this feature, which will turn on and change in time depending on your settings.
Adding Text
To drive the audience's focus, write text on your canvas. To keep your viewers focused, you can write on your screen during your live streaming to highlight your content, add shapes, and blur sections of your video while live.
Video & Live Stream Recording
With a simple click, you can record your video in any resolution, and with several video formats, you can save it to your PC or cloud. SplitCam helps you to record your live streams, video calls, conferences. In general, it is the most realistic way of capturing videos, tutorials and live streams.
Stream Colour Adjustments
You can change the colors of your video, include smoother skin or blur settings, contrast, brightness, sharpness can be adjusted as well. The quality of your video will increase using these features, which will make your live streams more successful and exciting.
Stream Setting Configuration
You may customize various settings for each live streaming channel. This will help you work with numerous streaming platforms with different resolutions and different capabilities.
Downloading & Installing SplitCam for Windows
Downloading SplitCam
To download the latest version of SplitCam, click on the giant 'Download now it's free' button towards the right of the screen. Else, you can simply download it from the link provided below.
Installing SplitCam
After the download ends, follow these step-by-step instructions:
Run the downloaded 'SplitCamSetup.exe' file.

Click the 'Next' button when the SplitCam setup wizard appears on the screen.

Click on 'I Agree' on the License Agreement tab.

Choose 'Full installation' in the Choose components tab and then click on 'Next'.

The destination folder will be preset by default in the next tab for choosing the install location. You may change it or directly click on 'Install' to proceed.

The SplitCam software will be downloaded in the designated location.

The installation complete tab appears after the installation. Click on 'Next' to proceed.

Click 'Finish' and run SplitCam.
The SplitCam application starts running instantly.
That's all you need to know to explore SplitCam and its features on your Windows PC. Enjoy your video chats and live streams!
You might also like