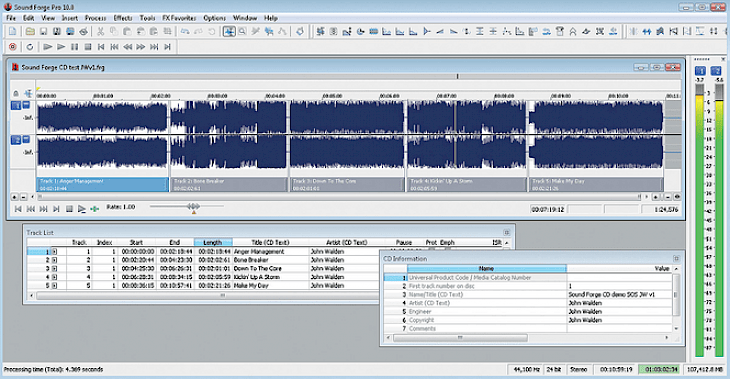 Download Sound Forge Pro
SOUND FORGE PRO is a Sound Forge is a digital audio editing suite developed by Magix Software GmbH and released in July 2018. Formerly known as Sonic Foundry Sound Forge, and later as Sony Sound Forge, the software is aimed at assisting the professional and semi-professional markets. There are two versions of Sound Forge: Sound Forge Pro 12 which was released in April 2018 and Sound Forge Audio Studio 13 which was released in January 2019. Both are well known digital audio editors and offer recording, audio editing, audio mastering and processing audio features.
Features of SOUND FORGE PRO
Multi-Channel Recording: The software supports a range of multi-channel recording features.

Voice Activity Detection: The software uses artificial intelligence to enable voice detection without any kind of glitches.

Disc Description Protocol: The software works with disc description protocol which can be used for specifying the content of optical discs, including CDs and DVDs.

High-Resolution Audio Support: The software supports a range of audio resolutions like 24-Bit, 32-Bit, 64-bit (IEEE float) 192 kHz.

Video Support: The software also supports a range of video formats like AVI, WMV, and MPEG-1 and MPEG-2 which include both PAL and NTSC for use in the frame by frame synchronization of audio and video by the user.

Wave Editor: The software uses a real-time sample level wave editor for more precision in editing.

Ultra-High Fidelity: The software is designed to have an ultra-high fidelity in the audio for high-quality reproduction of sound.

File Formats: The software allows users to work with a number of file formats like DSF (DSD), AA3/OMA (ATRAC), GIG, IVC (Intervoice), MP4 which also include Apple Lossless, MPEG‑2 transport stream and PCA. For working with audio‑for‑video, the software also includes versatile video file support AVI, WMV, MPEG‑1 and MPEG‑2 (in PAL or NTSC) file formats.

Plugin Support: The software was designed to be made compatible with DirectX and VST3 plugin support. The software also comes with a floating plug-in chain window for smooth and non-destructive effects processing.

CD Architecture 5.2: The software was designed to be compatible with disc-at-once CD burning.

Batch Conversions: The software allows multiple batch conversion functions that can be done by the user.

Tools and Generators: The software also comes with spectrum analysis tools and a brown, pink, white and filtered noise generators for a detailed analysis.

External: The software is also compatible with external monitor support for DV and FreeWire that consist of IEEE 1934 range of devices. The software also supports Macromedia Flash and RealMedia 9 exports too.
Installation Requirements for SOUND FORGE PRO
To install the SOUND FORGE PRO on PC, make sure that the following requirements are met by the user in the PC desktop.
PC – Make sure that your PC is on Windows 7 or higher with at least 4 GB of RAM.

Compatibility Mode is enabled.
How to Download SOUND FORGE PRO on Windows
Follow the below steps to download and install the SOUND FORGE PRO on your PC:
Go to Sound Forge Pro's website, and go to Downloads.

Click on Download Now.

Select 'Save' to download the program. The file will be saved in the Downloads folder.

If you want to save in a specified folder on your desktop, then click on 'Save As' and select the folder you want the program to be saved.

After the download is complete click on the .exe file.

The installation process will start.

Run the installation package.

Wait until the update completes

Follow the Windows installation instructions and select options accordingly.

Click on Finish to complete the installation.

The program icon will appear on the desktop.

Select the icon to start the application.
You might also like