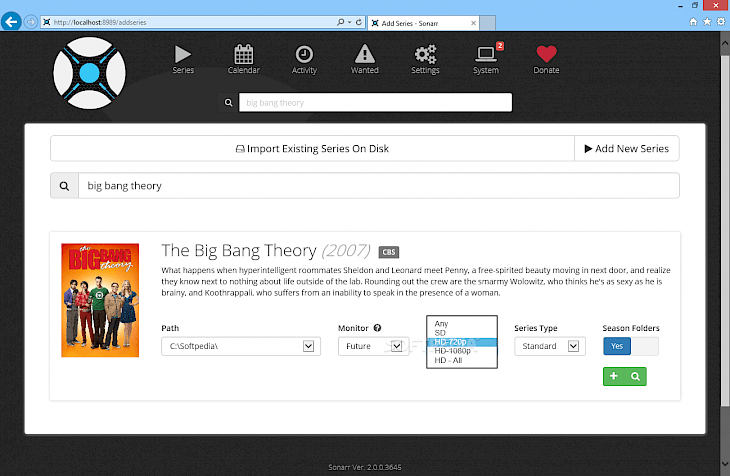 Download Sonarr
Sonarr is designed to elevate the entertainment experience on your PC. This excellent tv series management software enables users to download and manage their favorite TV shows and episodes.
You can watch your downloaded videos anytime from anywhere without any restrictions. This fantastic platform provides multiple series views with a user-friendly and unified interface. The notifications and profiles are presented in a customizable manner. This single application offered various compelling features to offer a convenient and entertaining platform to the user. The features provided include automatic detection of new episodes, analyze and download any missing episode, multi-episodes release, and many more.
FEATURES
The advanced tools of this fantastic software automatically detect the new episode and update the users.
In case you miss downloading an episode, you will not worry about it because this fantastic software scans your existing library and downloads the missing episode of your favorite TV shows and series.
You can do a manual search to identify or pick any new or relevant release of your interest. Choose your favorite series or release and send it right to your download client. Sonarr also allows you to preview the reason when any release is failed to download automatically.
The calendar features will provide the update and view of all your upcoming episodes in one convenient location.
The Automatic failed download handling is a handy tool. Sonarr will automatically blacklist the release if it spots any error and tries another one until it finds it works.
Fully configurable episode renaming
It has a Fascinating and interacting UI.
This excellent software provides full integration with SABNzbd and NzbGet.
To effectively use this tv series management platform, you just need to specify your preference to monitor only future episodes, the missing one, the first season, or the latest season. Furthermore, select video quality. This excellent platform provides all HD versions.
How to Install Sonarr on your PC?
If you want to watch your preferred movies and series on your computer conveniently, you can download the PC version of this excellent entertainment software. You will need to enter keywords and search your favorites series. The software will do the rest of the work by monitoring all the sources and relevant content so that you can download the release easily on your system.
Use this application to have an enormous entertainment experience on your Windows 7, 8, 10 operating systems.
Step 1: It is always convenient and preferred to download the software or application directly from the official website.
Step 2: Alternatively, open your browser and search "Download AnyBurn (32-bit) for Windows" in the search box. You will get a list of websites on your search result page. Alternatively, you can directly download this software from the developer's official website.
Step 3: You can choose any trusted websites from the search result page to download the setup or .exe file on your system.
Step 4: Once the downloading is completed, you can now start installing the software to run it on your PC.
Step 5: During installation, follow the guidelines and instructions very carefully.
Step 6: Once done, you can now use this fantastic application on your device to watch and download your favorite release, movies, and series.
You might also like