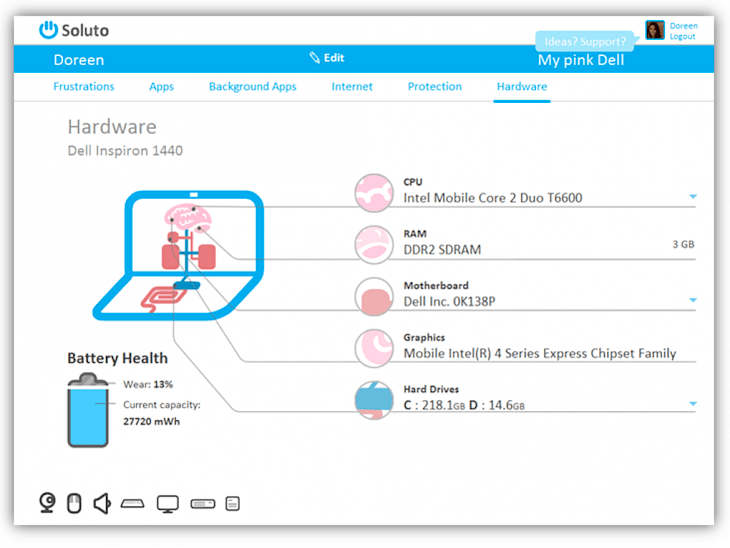 Download Soluto
Soluto is an anti-frustration app that blends low-level technology with mutual user intelligence to identify the frustrations of PC users, disclose their triggers, and learn what behaviors actually eradicate them to optimize the user experience. All this data is gathered for the good of all PC users in Soluto's PC Genome, a knowledge base of frustrations and solutions created automatically through the use of Soluto software.
Soluto was a developer of system security tools to help users detect and fix Microsoft Windows issues. It created an identically named product offering that combined into one service a mobile app, web portal, proactive communications, and remote device management. Soluto has allowed users to contact premier support technicians as part of a premium service. As part of the Soluto PC Management platform, Soluto provides access through the internet.
Features of Soluto
Soluto presents a plethora of features, the most remarkable of which have been highlighted in the section below.
Comprehensive Dashboard
There are six parts of the Soluto dashboard, separated into categories of technical details that the user can see and remote actions that the user can initiate.
Frustrations: display non-responsive application details, recent application crashes, potential crash causes, and solutions for crashes.
Apps: view a list of apps that have updates available, and start updates. View the list of applications that can be downloaded and installed remotely on your PC and start installing them.
Context Apps: View the list of programs that start when the device begins, program details, and suggested actions based on actions taken by other users of Soluto. Delete applications from boot or configure applications to boot shortly after boot.
Internet: select or install your default browser, set your homepage, and change your default search engine. View the toolbars and add-ons enabled, their descriptions, and whether Soluto recommends disabling the item. Disable all toolbars and add-ons as required.
Protection: turn on the firewall of your PC, display or install antivirus software and install updates for Windows.
Hardware: View technical information, including usable memory and battery health, about the PC's hardware. Defrag the hard drives.
Downloaded Agents
Soluto uses a downloaded agent to send data to and receive data from the back-end servers of Soluto. Data transmitted to Soluto includes applications that are running during boot, browser toolbars and add-ons that are allowed, hardware specifications, and a specialized type of crash report. The servers submit information back to the agent, such as fixes for recent crashes and remote actions that have been taken and need to occur by the user.
Detection of Frustration
Low-level, patent-pending driver technology senses when your PC frustrates you and informs you which application is causing it.
Power of the Crowd
The Soluto software harnesses the power of the crowd to understand which behaviors remove frustrations and enhance the user experience. To the good of all PC users, it leverages this user awareness. You are placing an entire group of PC power users at your desk by using the app's features to help you maximize your PC experience.
Download & Install Soluto for Windows PC
You can readily download the latest version of Soluto from the link on this page above. Once the download is completed, launch the installer to complete the installation before you can launch the software on your PC.
Now you can effectively run the Soluto to identify frustration on your Windows PC and solve them with ease. Enjoy running a smooth system henceforth!
You might also like