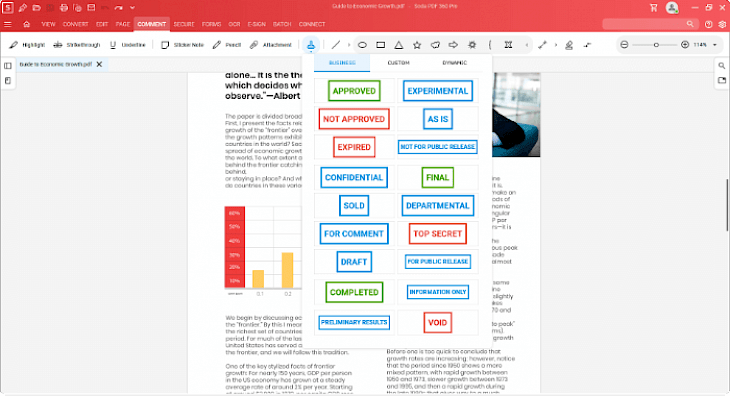 Download Soda PDF
Nowadays, presenting the information in a pleasant way and format is a significant and crucial task. PDF formats are getting more popular among working individuals. Soda PDF Desktop is a lightweight and excellent application that you can use to manage your PDF files. This great application works as a PDF editor, creator, and reader and will be capable of meeting all your PDF needs.
Soda PDF desktop is the best solution and platform for those who usually work on PDF formats and prefer to share the information in this format. Apart from PDF viewer, this amazing platform offers a wide range of tools that allow users to perform various experiments on their PDF files including editing, reviewing, creating, or converting PDF, and more.
The software enables the user to gain full editing control over any PDF and make the text's required changes. You can remove or add the pages, links, images, and customize the content entirely to your needs. Soda PDF Desktop helps you to add watermarks, headers, footers, page number, and allow you to apply changes to multiple files at once. You can perform all these tasks on the developer's unified interface, which is very easy to use and does not require prior technical knowledge.
FEATURES
View PDF Files
Soda PDF Desktop is a reliable platform that you can use freely to view your PDF files without paying a single penny.
PDF Files Creator
The software provides easy-to-access tools that you can use to create professional-looking PDFs to represent your information more pleasantly. To save your time, you can select from 300+ file formats available on the platform.
PDF convertor
Besides creating the PDF, this software allows users to convert their documents into PDf format with accuracy and without losing information.
Edit PDF files
It is quite challenging to edit PDF files. Soda PDF Desktop helps users to edit and modify their PDF files conveniently.
Insert Page Elements
This fantastic platform enables the user to manage and organize their files effectively.
Create Custom Forms
Apart from organizing your information this excellent platform allows the users to create fillable forms and custom invoices and much more.
How to install Soda PDF Desktop on your Windows Operating System?
The PC version of this fantastic software is available easily and you can download it from any trustworthy website. To download Soda PDF Desktop you can follow the guidelines and instructions described below.
tep 1: It is always preferred to install this software from the developer's official website.
Step 2: Alternatively, open your browser and search "Download Soda PDF Desktop for Windows" in the search box.
Step 3: Now, you will get a list of websites on your search result page. You can select any trusted website to start downloading the setup or .exe file of this software.
Step 4: Once you have downloaded the setup file, follow the step-by-step guidelines and instructions to start the installation process and run this software on your system.
Step 5: After following all the steps, click on finish.
Step 6: To proceed further, you have to create your Soda PDF account.
Soda PDF Desktop provides a free trial version to the users that includes only "View" and "Create" modules.
You might also like