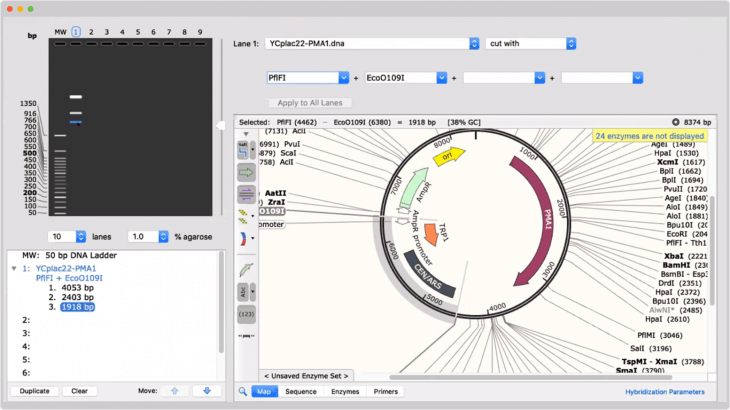 Download SnapGene
In today's world, technology is developing at an advanced rate. Working with DNA sequences is a very difficult job, but due to technical advancement, not only the android software but biologist software is also developed. For biologists and researchers, Snapgene is considered one of the best software that helps you to analyze molecular biology procedures efficiently. Designed by GSL Biotech LLC, this software helps in the scanning DNA files and provides a detailed report about including its features, DNA colors, ORFs, and many more. You can scan multiple DNA sequences by using this excellent software.
FEATURES
This software helps you to analyze and track the details including DNA methylation and phosphorylation accurately and without wasting much time. The visuals used in the software helps to represent the integrated image. You SnapGene provides information rich-windows for common cloning and PCR Methods.
SnapGene is one of the most popular cloning tools in the biologist software market. You can correct the design flaws in the cloning and correct them accordingly. This tool offered you to design your primer or you can ask the software to design the primer for you.
This software provides a detailed presentation and sequence view to display enzyme sites, features, primers, ORFs, and many more. You can also customize your plasmid map with advanced visualization control and annotations.
You can record all your analyzed documents and analysis in the software without any loss in data. This software allows you to save and share your sequence and files to enhance your user experience and save time.
You can save your DNA sequences in any file format including alignment formats, Clone manager, EnzymeX, DNASIS, and many more.
SYSTEM REQUIREMENT
To enhance your working experience, you will need to check the minimum system requirement before installing the software.
Operating system: Windows

1 GB of RAM

250 MB of free hard disc space

Display: 1024 x 768 or higher resolution
HOW TO DOWNLOAD?
SnapGene has a wide variety of great features with a user-friendly interface which helps its users to build, annotate, and evaluate multiple DNA sequence file. This software helps molecular biologists to navigate and build richly annotated DNA files up to 1 GBP.
You can install this pioneering software application on your windows operating system. firstly, make sure that your system meets the minimum requirement and then follow the guidelines described below,
Step 1- Download SnapGene to install the setup.
Step 3- After downloading the setup file, now run this file in your system by following the step-by-step guidelines provided during the installation process.
Step 4- When installing completely, now click on the finish button.
Step 5- You will see the SnapGene icon on your screen, click on the icon to use this software on your system.
You might also like