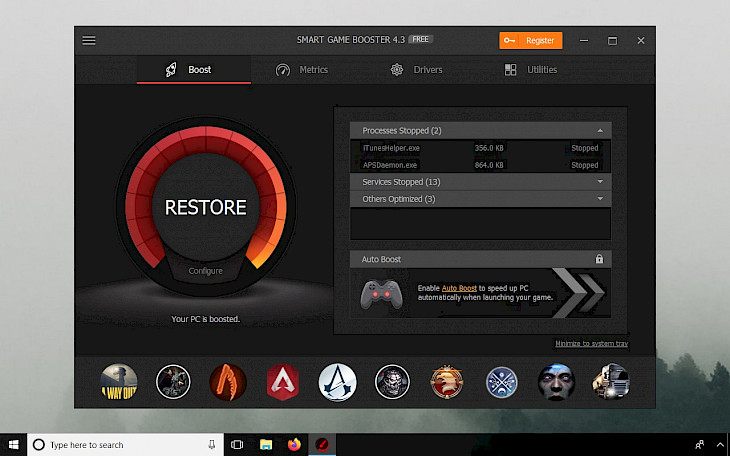 Download Smart Game Booster
Smart Game Booster is one of the best applications to optimize computer performance so it will run much faster and smoother than ever. The application is dedicated to gamers as FPS booster, RAM cleaner as well as a game launcher. What's more, Smart Game Booster can overclock Nvidia and AMD graphics cards.
Download Smart Game Booster for Windows and remove any unwanted programs from the system. The tool works on a 64 and 32-bit system and was tested to operate from Windows XP and up to Windows 10 systems. This is a great optimization utility for gamers who wants to boost FPS in games on Windows.
If you like to speed up your computer for games, but you are low on budget install this freeware tool that can help to boost your PC with just one single click.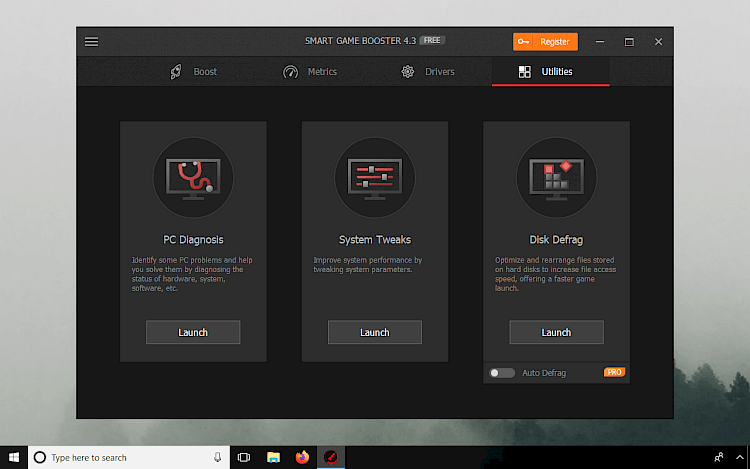 Smart Game Booster is an easy-to-use game optimization tool. The program increases FPS and intensifying processor performance by killing processes and apps unnecessary for gaming. It also launches games directly after the boost and displays the temperatures of CPU and GPU in real-time while gaming.
The latest version of the game optimization tool is packed also with three useful utilities (PC Diagnosis, System Tweaks, and Disk Defrag) to further improve your PC performance. One of the most exciting features available in Smart Game Booster is the new hardware acceleration technology.
Super Boost helps users to overclock CPU and GPU for optimal visual effects in gaming. Overclock most Nvidia and AMD graphics cards and keep it working at a safe temperature without special knowledge. There is also an option to take a screenshot or a video in gaming using the application.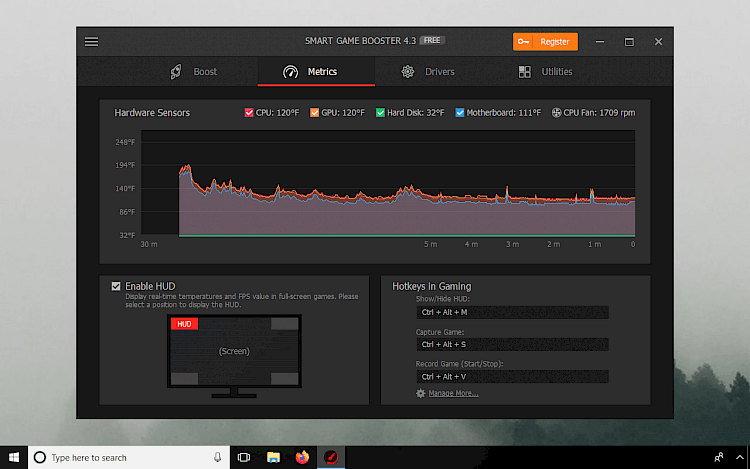 Smart Game Booster can also display a HUD with real-time temperature and FPS value in fullscreen games. You can also monitor CPU Fan speed, and temperatures on motherboard, CPU, GPU, and Hard Disk if sensors are available.
If you are a gamer it's really important to download the newest version of drivers for your graphic card. Outdated drivers may cause problems with performance, but also mouse, keyboards, headphones, speakers, and other external devices. Smart Game Booster can update all drivers automatically while the system is idle.
With Smart Game Booster 4 it is also easy to record videos from gameplay. Usually, all mentioned features are packed in a few different apps, but Smart Game Booster offers all functions packed in one amazing product.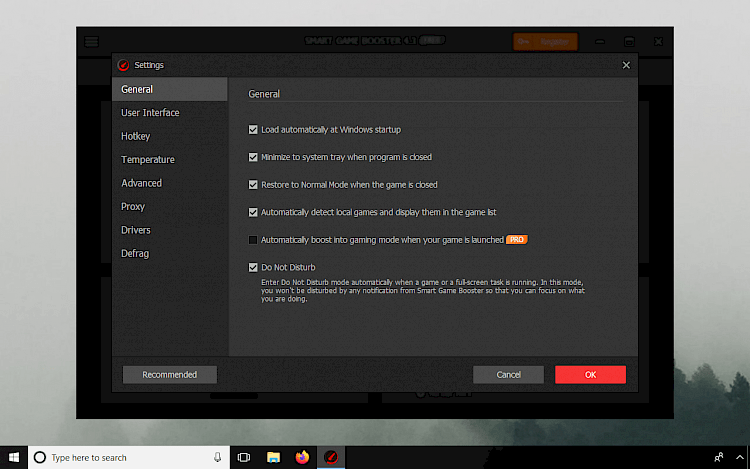 From program settings, you can also activate the Do Not Disturb mode that will disable all notifications from Smart Game Booster so that you can focus on the game. Smart Game Booster will load automatically with Windows startup, but you disable this option and lunch the program manually.
System Tweaks, available from the Smart Game Booster Utility page, is an excellent tool to improve system performance by tweaking system parameters. PC Diagnostic can identify some computer issues and help you to solve them by diagnosis the status of hardware, system, software, etc.
Smart Game Booster Pro is packed with Auto Defrag Disk Utility. Defrag the disks to free up more space and enhance the data accessing speed. The hard disk is automatically defragged while the system is idle. Pro version offers also more automation features and even better (up to 30%) super-boost PC performance.
Overall, Smart Game Booster for Windows is a must-have tool to increase the potential of your hardware and system. The freeware version offers not only everything to optimize your computer, but also can record your gameplay. If you need better performance buy the Pro version because it's worth every penny.
You might also like