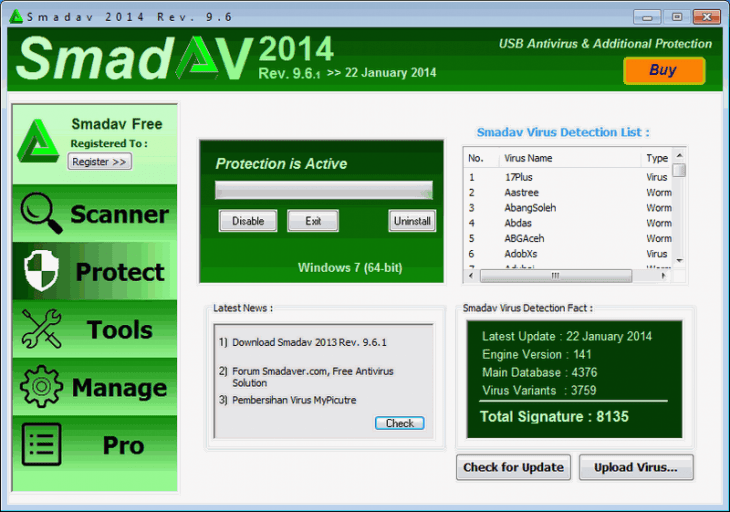 Download Smadav Antivirus
Technology is an excellent addition to our lives that makes us quite feasible in simplifying complicated tasks to accomplish them most feasibly. While many might have the notion that technology isn't that great, specific devices make our lives heaven and allow us to do multiple things within a matter of seconds. We are talking about the computer. Computers have been amongst humans for several decades now, no doubt; it can store all our data and files exceptionally well.
However, what if there was something to go wrong with how it functions. Some external applications that made our computers slow and enabled it to crash immediately? At such a time, an antivirus would be necessary to ensure that all the applications and files that are causing the system to slow down are eliminated. From the many antivirus software's to choose from, we have one exciting software discussed below. Check it out.
What is Smadav Antivirus?
Smadav antivirus is a simple (no-nonsense) antivirus software that helps get the best performance out of the computer while eliminating all malware, malicious activities, and viruses from the computer. It safeguards the computer in ensuring that the users get the most of the computer and prevent any future attacks as such to occur. Moreover, it even protects your external devices such as USB drives, storage disks, and more. The software is free to use on a trial basis for a limited period. After which, you will have to buy the full software.
Key Features of the Software
Most of the antiviruses out there take a significant chunk of the system memory is running. However, with Smadav antivirus, it takes less than 1% of the system memory to run at its optimal best. It ensures that its work and function is carried out exceptionally without slowing the computer down.
The software is compatible with other antiviruses as well. With others, you can have only one antivirus installed. Still, with Smadav antivirus, you can have two antiviruses installed, and yet it works seamlessly without any distortion or causing any lag towards the computer. Moreover, it does the job well and keeps altering the user if there was any suspicious activity.
Protects external devices as well
USB sticks are the most common source of having any virus or malware to enter your computer. It protects all these devices and ensures that it scans these devices before letting the user access them.
Minimum System Requirements
OS – Windows 7 or higher

CPU – P4 or higher

RAM – 1GB or higher

Storage – 150MB or higher
How to Download and Install it on a PC
The software is available on multiple third-party application hosting sites. Download the software from any of these sites.
Once downloaded, then open the installer from the downloaded contents and install it. Once installed, enjoy a faster computer usage experience and safeguarding your computer from any attacks from viruses.
You might also like