Start Sleipnir download now, for free!
Category: Web browsers
Version: 6.3.5
Last update: Mar 14, 2019
OS: Windows, Mac
License: freeware
What is Sleipnir?
Sleipnir is a web browser without the address bar and tabs we are familiar from competitive solutions. In return the developer introduced a system displaying thumbnails of currently open pages. The link to website is displayed in the upper right corner of window.
You can enter a URL to a new website directly from the Search bar. Sleipnir allows you to synchronize your favorites with devices such as the iPhone, iPad, Android, Mac and PC, selecting a own search provider, import favorites from browsers installed in the system, view the source code of pages and edit individual elements, install extensions from Google Chrome and much more.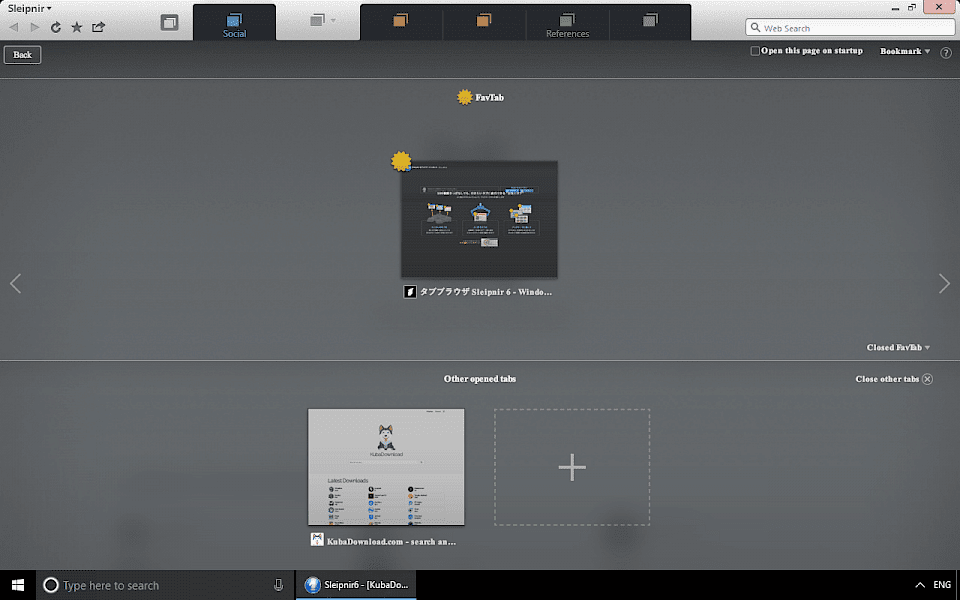 Sleipnir is a modern browser that supports all new Web technologies. These include support for HTML5 animations, CSS, JavaScript / ECMAScript, DOM, SVG, XML, XHTML, geolocation, orientation on mobile devices or GPU acceleration for the canvas. The engine used to render pages is called Blink. You can find it also in Google Chrome and Opera browser.
Sleipnir offers additionally a built-in PDF viewer that does not require installation of any external applications.
Sleipnir Alternative
| Software | License |
| --- | --- |
| Brave Browser browser 2 times faster than competitors on desktop. | MPL |
| CentBrowser feature rich Chromium Browser. | freeware |
| Mozilla Firefox is one of the best Desktop web browsers. | MPL |
| Google Chrome a fast, secure, and most popular web browser. | freeware |
| Maxthon Browser the browser with built-in Passkeeper, Mail Client and Note. | freeware |
| Vivaldi great replacement for users loving Opera 12. | freeware |
| Tor Browser be anonymous in Internet. | GPL |
| Chromium Browser the open-source projects behind Google Chrome. | BSD |
| Yandex Browser web browser developed by Russian company Yandex. | freeware |
| Avast Secure Browser web browser focused on security and privacy from Avast. | freeware |
| Slimjet useful features packed in the browser. | freeware |