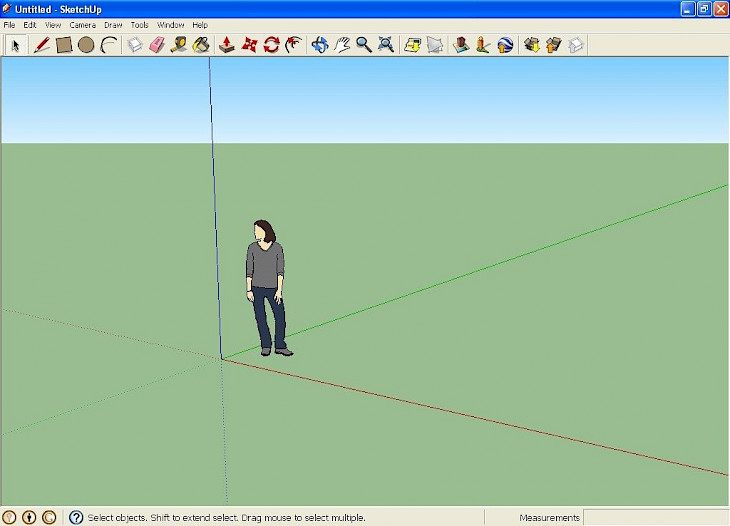 Download SketchUp Make
Are you an architect who designs 3D models of buildings regularly? SketchUp Make is a 3D modeling application that is simple and easy to use and can be used by itself or as a Google Earth plug-in. You can create 2D or 3D structures of any kind with it and even adjust the color schemes or materials used in your models.
Finished models can be printed, uploaded, stored in the 3D Warehouse, or even published directly to Google Earth, where millions of visitors who use this service everyday on all modern PCs and mobile devices can see user-generated models of real structures.
For a plethora of drawing applications, like architectural and interior design, landscape architecture, mechanical and civil engineering, video game, and film design, SketchUp is a 3D modeling computer software developed by Trimble Inc. It is available as a web-based program, SketchUp Free, SketchUp Make as a freeware version, and SketchUp Pro as a premium version with additional features.
Features of SketchUp Make 13.0.4812
Introduced in mid-2013, Sketchup Make is a free version for home, personal and educational use. The software lets you start with a 30-day trial of SketchUp Pro. Users will have to agree to the Terms of Service after that period and continue to use SketchUp Make for free.
The remarkable features of SketchUp Make include the ones mentioned in the section below.
3D Modeling for Novices
Currently, there are many great modeling tools on the market, but SketchUp was designed to be the first modeling software for novices from the ground up. Still, it leaves enough specialized tools and services that beginners and advanced users alike have space to explore, develop their knowledge, and learn countless new things about the 3D modeling environment.
Simplistic User Interface
In SketchUp Make's GUI, which provides a wide range of resources, documentation, and tutorials that can give quick acclimatization for each beginner, this commitment to simplicity and easy access to advanced tools is perfectly demonstrated. Users can model and redecorate your living room easily with the app, invent a new piece of furniture, model your city for Google Earth, use it as a platform for your school or university ventures, add it to your job pipeline, and much more.
Teams & Tools Support
SketchUp Make lets you collaborate with your team on a joint project with effective communication and also supports and provides a wide variety of designing tools and plug-ins to help you in the process.
Download & Install SketchUp Make 13.0.4812
SketchUp Make 13.0.4812 can be downloaded directly from the SketchUp official website that allows you to download back versions of the software. Else, you can do the same from any of the several third-party tech websites available. Once downloaded safely, run the setup installer to finish the installation process quickly by following simple on-screen installer instructions.
Now you can easily design 3D mockups with your team and test out different environmental scenarios on it before presenting it to your boss or the clients and impress them. Good luck and happy designing!
You might also like