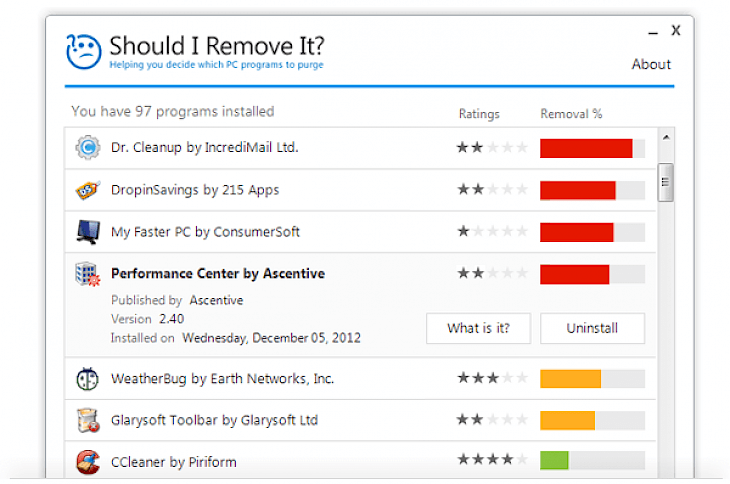 Download Should I Remove It
Manufacturers these days want users to use their devices and their applications no matter how ineffective they might get. No doubt, these applications are useful to a few but useless to many; they take up a lot of space and practically serve no function whatsoever. In a similar approach, several users are fed up with all this bloatware fed into the software that makes the device run slower.
Though the problem has been persistent on mobile devices, computer systems have faced such issues where manufacturers want users to stay on their platform and not use anything else. To eliminate such an application, we have one software that does it for you. Check it out.
What is Should I Remove It?
Should I Remove It? is an application that helps the user in eliminating plenty of bloatware from the computer system. It can prove to be a helpful tool that uninstalls almost any software that isn't Microsoft related and pre-installed when you got it from the manufacturer. These include unwanted applications, spyware, toolbars, and much more.
The application is quite handy and helps in removing such apps after it scans your entire computer. The application determines the useless apps, all thanks to the customer reviews about a specific application that the software depicts and uninstalls them. The best part is that it's free to use.
Key Features of the Software
The real data for the software is received through its crowdsourced information where every data is given to the software, and it takes the right decision to remove it entirely. The user can decide whether to remove the application or not once the scan is complete.
The application is entirely free to use with no hidden charges. You can find it on its official website, where you get statistics about the manufacturer that adds on its bloatware, which is rendered useless.
The user interface is relatively discrete and offers all types of controls and navigation buttons on the software's home screen. It's simple to see which apps are useless and which apps you might want to delete.
Minimum System Requirements
OS – Windows 7 or higher

CPU – Pentium or higher

Storage – 100MB or higher

RAM – 1GB or higher
How to Download and Install it on PC
Download the installation files
The installation files are available on the website of the software. You can download it for free without any charge. Download the latest version of the software.
Once downloaded, open the installation package and set up the installation wizard of the software. Wait for it to finish.
Once installed, enjoy clearing up unnecessary bloatware from your system effortlessly.
You might also like