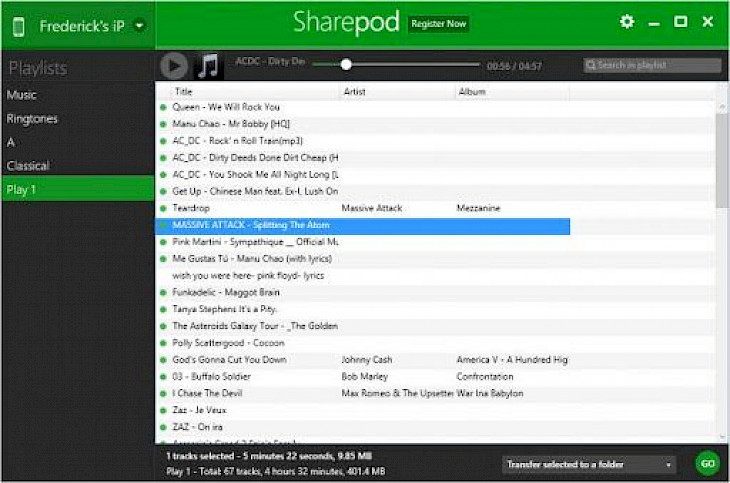 Download Share Pod
The early 2000s saw a drastic shift of music from a hard format of CDs and music cassettes to digital music that allowed users to listen to millions of songs from a tiny device. It was quite revolutionary back then, and several industries witnessed this change as a potential for having scope in the future. Even operating system manufacturers gave their personalized take on how their customers consumed music.
However, a popular music application was iTunes, which still is quite feasible for iOS users to have all their music stores in one place. The application was quite different and revolutionary at the time of release. But, few flaws made other third-party applications come to fame and fulfilled what iTunes missed out upon. Check it out.
What is Share Pod?
Share pod is a free application that lets users connected their iPod, iPhone, and iPad to the computer and have a seamless transition of music, playlists, and other things from the device to the computer. It was a complete solution for all necessary transferring of playlists, music, and much more synchronized when transferred into the device. Also, it helped in detected audio files that were being copied twice and eliminated this from occurring.
Key Features of the Software
If you have music stored on your computer or Apple devices and are looking for significant transitions of the files, then use the software to find them back. It helps in the auto-recovery of music effectively without the need for any other application.
Device to computer song transfer
It's cut down iTunes to its bare bones where you can effectively transfer music from the computer to the device and vice versa, all with a click of a button.
Copy or share an iTunes playlist
The playlist that you might have created might be fascinating. The software provides options for sharing and even comprises copying the playlists from one device to another.
Minimum System Requirements
OS – Windows 7 or higher

CPU – Core 2 Duo

RAM – 2GB or higher

Storage – 100MB or higher
How to Download and Install it on PC
The software is broadly available on multiple sites for free. There are no charges to get the software.
Open the installer after successfully downloading it. Follow the on-screen set of instructions to install the application successfully.
Have fun using the software right from the desktop shortcut or the installed directory.
You might also like