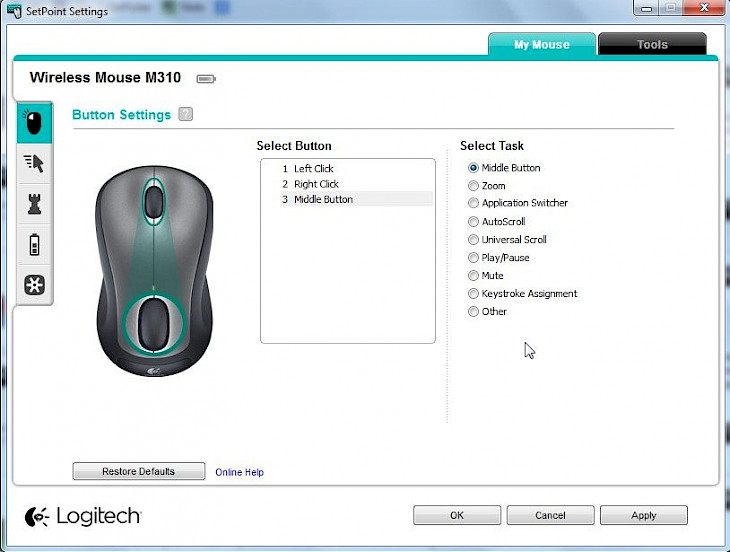 Download SetPoint (64-bit)
Are you looking to assign a new and customized set of hotkeys to your keyboard or mouse? Consider using SetPoint 6.69.126 (64-bit) for your 64-bit Windows PC.
Developed by Logitech, you can customize your mouse buttons, keyboard F-keys, and hotkeys with the SetPoint software. To monitor tracking speeds and customize other device-specific settings, use SetPoint. It can also alert you of the battery status of our system and whether Caps Lock and Num Lock are on.
You should consider downloading and installing SetPoint if you want to do the following things:
To delegate several functions to F-keys and hotkeys on your mouse buttons or keyboard.

If there are more than five buttons on your mouse.

Windows has built-in support for five-button mice, but you'll need to use SetPoint to support the extra buttons if your mouse has more than five buttons.

You'll need to install Logitech Gaming Software (LGS) instead of SetPoint if your mouse is a Logitech G-Series gaming mouse.

If your mouse has a tilt wheel and in typical Windows desktop applications like Microsoft Excel, you want to use it to scroll left and right.
On the other hand, there is no need to download the SetPoint software if you are planning to do the following things:
For mouse functions built into Windows 8 like -

Left-clicking

Right-clicking

Middle clicking

If you want to add other features to your mouse buttons, you can adjust their functionality using SetPoint.

To access Web pages, setting back/forward buttons

Scrolling

Besides, it will function in most Windows 8 type applications if your mouse has a tilt wheel, but if you want to scroll horizontally in typical Windows desktop applications, you will need SetPoint.
Features of SetPoint
SetPoint from Logitech offers the following unreal features.
Assigning Start Screen to Mouse
Pressing the button would take you directly to the Start screen when the Start screen is assigned to the mouse button or keyboard key. You'll be brought back to your previous position with a second click.
Assigning Button to Show Desktop
Windows 8 takes you to the desktop on clicking the button, while it minimizes the browser windows in Windows 7 that are open.
Button to Switch Between Applications
This feature loops one at a time with each press of a button through your open applications.
Button to Open Windows 8 Charms Bar
You can set a particular button on your keyboard or mouse with SetPoint to open up the Windows 8 Charms bar on pressing or clicking.
Button to Open App Bar
You can even open the Windows 8 applications bar with a single button using SetPoint.
Download and Install SetPoint (64-bit) for Windows PC
SetPoint 6.69.126 (64-bit) can be downloaded on your Windows PC from the official Logitech website or any other third-party website free of cost. Once the setup file is downloaded, double-click it to run the installer.
Upon launching the installer, you can follow the simple on-screen instructions to agree to their User Agreement and proceed with the installation. SetPoint will appear as a desktop icon once the installation completes.
Now you can easily assign hotkeys to your mouse and keyboard and make life a lot easier in every possible way. Enjoy!
You might also like