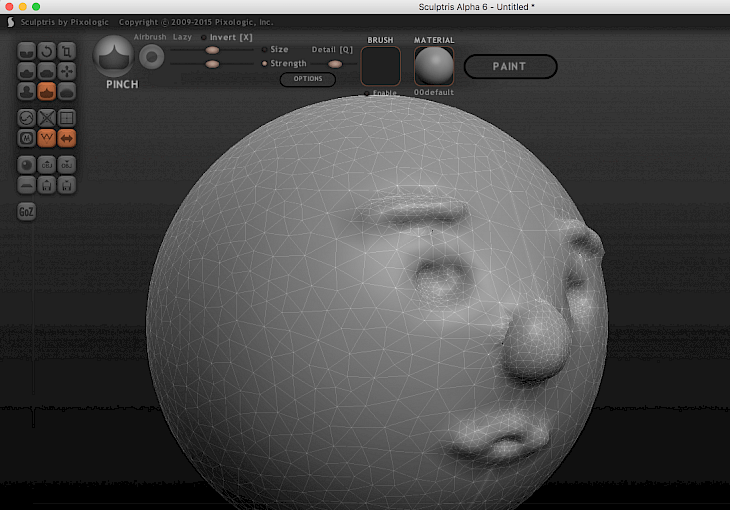 Download Sculptris
Sculptris is an impressive portal into the exciting 3D world. Even for someone with no background in digital art, its characteristics are easy to understand but versatile enough to build simple models that can then be refined in other apps, such as ZBrush. Begin with a virtual clay sphere and shape it into whatever you want it to be. In Sculptris, this is made possible by its remarkable ability to redefine the model's internal structure locally.
You can edit the mesh geometry in Sculpt mode with simple brush strokes. Think of this as using devices for sculpting on a lump of real-world clay. You can use brushes in Paint mode to paint a texture on the surface of your mesh that is wrapped or mapped.
Sculptris was planned to be as available to any artist. It is easy to access the GUI, and each role is easy to find. Within seconds, even the most inexperienced user can begin making. You will start to explore new depths inside the application as you become more professional. The more advanced you get, the more your sculptures will take you to new heights of imagination and detail.
To satisfy your needs and what you are already used to, the product provides two navigation methods. By default, ZBrush navigation controls known as Right-Click Navigation and Free Moving Navigation are launched by the software. Alternatively, you can turn the Original Navigation app and hotkeys on or off.
The app frees you from the need to think about the geometry of your model. The tool continuously analyses the surface as you model to ensure that there are enough triangles to demonstrate the information you are making. The app automatically separates the region under the brush if there isn't, thus leaving the rest of the model unchanged. This also enables the tool to make better use of the resources of your machine since polygons are only added where they are required.
Features of Sculptris
The exceptional features of Sculptris have been highlighted below.
Lively Tesselation
Automatic subdivision enables detail sculpting to be "rough to fine". Start with a sphere and let power take over your imagination.
Impressive Interface
Without a cluttered workspace, the transparent toolbars will let you concentrate on your model.
Controls to Navigate
In the app, the controls are now identical to those in ZBrush, making it simple to go between the two apps.
Symmetrical Mode
Symmetrical automatic sculpting on both sides of the model is possible through Sculptris.
Brushes for Sculpting
Draw, Catch, Squeeze, Crease, Smooth, Flatten, and more. It's never been so quick to add details to your sculpture.
Brushes to Optimize
To maximize a localized field, reduce the quantity of tris in your entire mesh, or use the decreased brush.
Download & Install Sculptris for Windows PC
Sculptris Alpha 6 can be readily downloaded from the official Sculptris website or any other third-party affiliate website around. After downloading the Sculptris setup file, click on it twice to install Sculptris on your Windows PC.
Once you have successfully installed the Sculptris software, launch it and get started in designing and polishing your sculptures with all the ease in the world. Enjoy sculpting!
You might also like