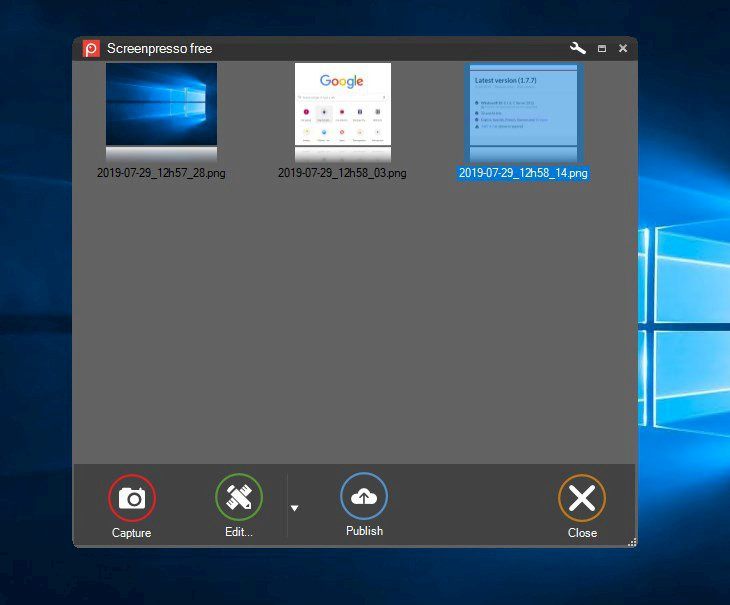 Download Screenpresso
Screenpresso screen capture allows you to capture what you see on your computer screen with an image or video, add effects, and share it with anyone. For your training documents, collaborative design work, IT bug reports, and more, Screenpresso captures your desktop screenshots and HD videos. Screenpresso is a new lightweight screen grab tool with a built-in image editor, user guide generator, and sharing options.
Are you running a business? For businesses, Screenpresso is ready. Screenpresso can be configured by IT to enable/disable features to fit business constraints and ease deployment on the PCs of all companies. As well as policy features to disable particular features, MSI is open. On CITRIX and Windows TSM, Screenpresso functions.
Features of Screenpresso
The exquisite set of features offered by Screenpresso are highlighted in the section below.
Capture Videos or Pictures
Capture, with just a few clicks, what you see on your screen. Manage your recording history through workspaces, with a dedicated app on iOS, import media from your iPhone. Click the Print Screen icon, and you'll see how Screenpresso lets you catch screens magically. The mouse pointer will transform into a crosshair, and the region which can be captured in red will automatically be illuminated by dragging it around the screen. This makes a pretty cool edge snapping to the screen, so you can choose to catch part of a window, or the entire window, or even the whole screen. Use the same shortcut/hotkey to grab the entire screen, part of the screen, or a particular window. Make sure that what you need is recorded. Click and drag anywhere on the screen to pick a pixel-perfectly accurate region with the zoom lens at the bottom right of the screen.
Scrolling Windows Capture
Cannot capture everything on one screen? Use the stitching function to produce a unique picture of the scrolling windows. Capture the mouse cursor and the catch sense. Delay capture for background menu capture
Create Great Looking Photos and Records
Edit and highlight what matters with a built-in image editor in your screenshots. Create PDF documents with a generator of documents. The secret to minimizing confusion in documentation is a small video. For easy sharing, Screenpresso records your screen in a video and produces lightweight MP4 video files. MP4 format capture for lightweight files. Capture the Webcam and microphone. Frames and Images exporting is possible. In the end, resize the video and adapt the format.
Share Screenshots on your Screen
To create attachments in 1 second, drag & drop your captures to your emails. Share videos and photographs without registration with the Screenpresso Cloud. Post to Evernote, Google Drive, Twitter, Dropbox, Facebook, and more.
Smooth Flow of Work
Screenpresso has a 3-step mechanism. To start a screenshot, press the 'PrintScreen' key. You don't have to think about a filename. Edit your screenshots with the built-in editor. Publish your screenshot - PDF, email attachment - drag anywhere or post online.
Download and Install Screenpresso for Windows PC
To download the latest version of Screenpresso, simply click the button above and complete the download. Then, run the installer to install Screenpresso on your Windows PC to be able to launch and execute the software smoothly ever after. Enjoy!
You might also like