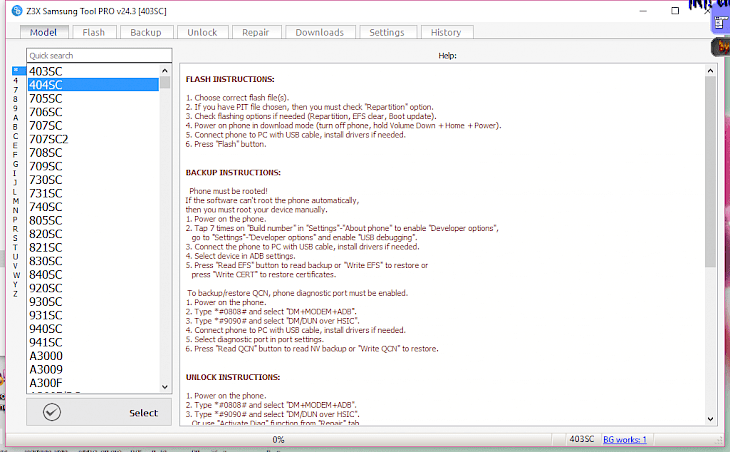 Download Samsung Tool PRO
Do you own a Samsung Android phone or tablet that you want to operate using your Windows PC? If you use a Samsung smartphone, you can switch modes, upgrade apps, restore factory settings, and switch the language of the phone using a tool called 'Samsung Tool PRO.' The app doesn't need guidance since it can automatically detect information from your devices. This makes the process simple.
Developed by Team z3x, the program does a lot more than provide security updates for your computer. A previous firmware update can also be chosen for your phone to use as well. The application manages each modified version. If your phone has problems, such as boot-up issues or screen freezes, then the program can help you fix them.
The Samsung Tool PRO can also unlock your Samsung cell phone. There is no further effort needed. Your data can be saved before each operation is performed since the tool periodically produces data backups. That way, to restore your phone to its previous location, you can use a backup.
Features of Samsung Tool PRO
The outstanding features of the Samsung Tool PRO have been detailed systematically in the section below.
Device Information Reader
With Samsung Tool PRO, it is possible to read any significant bit of information and system status directly from the screen. The serial number, factory data, hardware data, etc., for example, can be easily read.
Software Updates
Upgrading to new firmware versions or downgrading to older versions is the most common use of this feature. It is often used to modify languages or to introduce them. In 90% of instances, following a software update of this kind, most of the restart, freeze, and no-boot errors are solved.
Direct Screen Unlocking
There are two ways to break the network locks: to unlock the unlock code directly and to read it out. After the successful completion of the operation, this function is designed to prevent having to do any extra steps; the system can be used with any provider's SIM card immediately.
Codes & Scripts Reader
This feature can successfully read the code stored on the phone. Within the phone, nothing will be altered, i.e. Knox remains untouched, and before the procedure, you will have codes and scripts to unlock your phone.
Backups & Restoring
Before each crucial part of the operation, backups are generated automatically. This is a feature that provides extra protection.
Download & Install Samsung Tool PRO for Windows PC
Samsung Tool PRO is readily available for download from the main website or any other tech website offering the tool. Once downloaded, follow the simple steps below to complete the installation.
After the download process is finished and the extraction has been completed via WinRAR to a file folder, go to the folder where the tool is and open the .txt format file and copy the password provided in it.

Then find the application loader.exe and run the program as the administrator. Then when a permission message shows up and asks for your approval, choose Yes, pick the language of your choosing, and then click Next.

After this, paste the copied password into the request for a password box and proceed. Be sure not to change anything while you are typing, as it is case-sensitive.

Click next to all windows and proceed to the installation process when a pop-up window pops up three times, asking for permission. The tool will be ready for use after the installation has been completed.
Thus you can easily install and use this handy utility for doing a lot on your Samsung phone via your Windows PC. Cheers!
You might also like