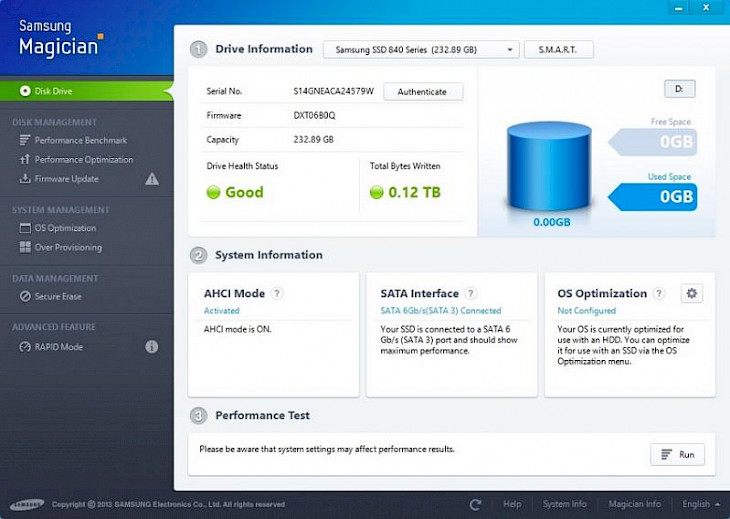 Download Samsung Magician 4.9.7
Storage devices are standard in the 21st century and ensure that people can transmit large amounts of data from one place to another effortlessly without any data loss. They come in various shapes and sizes. The cheaper one is a hard drive where you have a physical rotating disc with all your information stored, making it quite flexible and more comfortable to store large amounts of data.
The other options are SSD, which stands for the solid-state drive, which is the faster way of storing data and achieving more incredible speed. Many manufacturers make them, but the most popular one is Samsung's SSD. They are sleek, elegant, and quite robust in design. They need maintenance and updates at all times, and for the same, we have software designed by Samsung for the same purpose. Check it out.
What is the Samsung Magician 4.9.7?
Samsung magician 9.4.7 is SSD oriented software that allows users to manage their SSD's from a single application. It helps in getting the best out of your SSD and keeps it updated throughout. Moreover, it helps in benchmarking your SSD performance and fix any software-oriented issues as well. Most of the time, the software comes along with the SSD, and it free of cost that can be downloaded from Samsung's website.
Key Features of the Software
Through the software, users can try out many different things with the SSD. Things like erasing the content on your SSD within one minute, checking out the performance, updating your SSD to the latest firmware, and entirely compatible with almost all types of external Samsung SSD's.
The user interface is quite easy to understand. You didn't need a learning curve to know how to use it. All the functions are available on the home screen and can be used effortlessly.
The software either comes with the SSD, or you can download it from its official website. It's free either way.
Minimum System Requirements
OS – Windows 7 or higher

CPU – 2GHz processor

RAM – 1GB or higher

Storage – 100MB or higher
How to Download and Install it on PC
Download the installer for the software
The software is broadly available on multiple third-party sites, which can be accessed easily. Users can download it from Samsung's official website as well.
Open the downloaded contents and double click on the installer. Once the installer wizard pops open, follow all the necessary on-screen instructions for a successful installation.
Enjoy using the software to maintain your SSD and do lots more.
You might also like