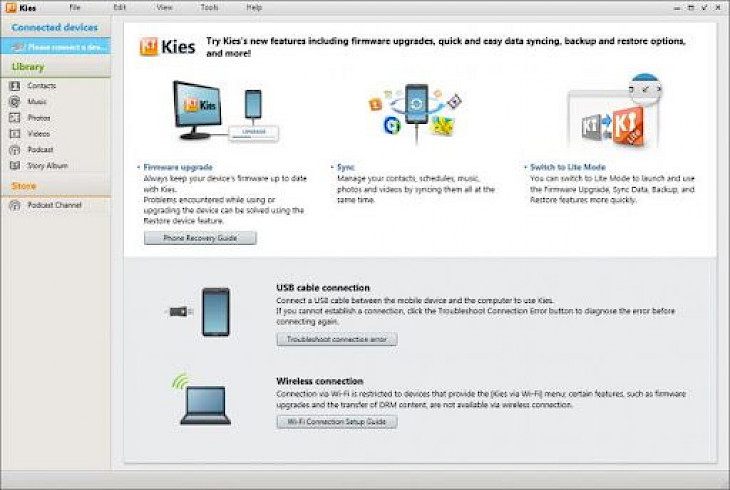 Download Samsung Kies
Do you face difficulties synchronizing data between your phone and your PC? Are you looking for a smarter solution to this problem than mere data exchange via Windows Explorer? Consider using Samsung Kies, a software that connects your mobile phone to your PC, making it simpler for you to synchronize data and discover new apps between the connected devices.
Samsung Kies is a widely used free software application developed by Samsung Electronics Co. Ltd. It is mainly used to communicate between Windows or Mac OS. And recently, this software is being built into Samsung mobile phones and tablets, generally using a USB connection. The name K.I.E.S. emerged as a "Key Intuitive Easy System" acronym.
Your PC is connected to your phone by Samsung Kies, making it easier for you to synchronize details and discover new applications. You can view full-screen apps on your Windows using Samsung Kies, no matter what network you are on. You can also personalize services by merely being a member of Samsung Apps or registering your mobile phone.
Features of Samsung Kies
The primary feature of Samsung Kies is to establish a fast and secure connection between your PC and phone for easy transfer and synchronization of data. Some other exceptional features of Samsung Kies are mentioned in the section below.
Wireless, Secure Connection
Via Wi-Fi and Sync content, Samsung Kies allows you to link your mobile to the software. Kies lets you enjoy it in a remarkably convenient way via Wi-Fi. It is only available for supported models, and when connecting to Wi-Fi, some functions are limited.
Contact Syncing
Kies lets you easily connect and edit mobile contacts to your software and also synchronize contacts for Outlook, Google, or Yahoo contacts effortlessly.
Easy Updates
When paired, the software will automatically alert you of a new update of the firmware, so that you can make your smartphone better with the latest firmware.
Music Syncing
Samsung Kies enables you to create your own favorite music playlist and use smartphone sync to enrich your life wherever you are with music.
Rapid File Transfer
Kies lets you transfer your pictures and videos to your PC seamlessly. You can store precious photos, videos you've made and feel your happy moments in Kies safely.
Download & Install Samsung Kies for Windows PC
Download Samsung Kies for Windows PC
Head over to the official website of Samsung to download Samsung Kies or do the same from any affiliate website on the internet. Once you have downloaded it from a suitable source, double-click on the setup file to open the installer.
Install Samsung Kies for Windows PC
After you have double-clicked the executable setup file, the installer will appear on the screen. Follow these simple steps to complete the installation.
Click on 'Next' and agree to their User Agreement.

Once the installation starts, wait patiently for a few minutes for it to finish.

Click on 'Finish' as soon as the installation ends.
There you have it! You can now effortlessly transfer files and data between devices and maintain all of them in synchronization using this useful tool from Samsung. Enjoy using Kies!
You might also like