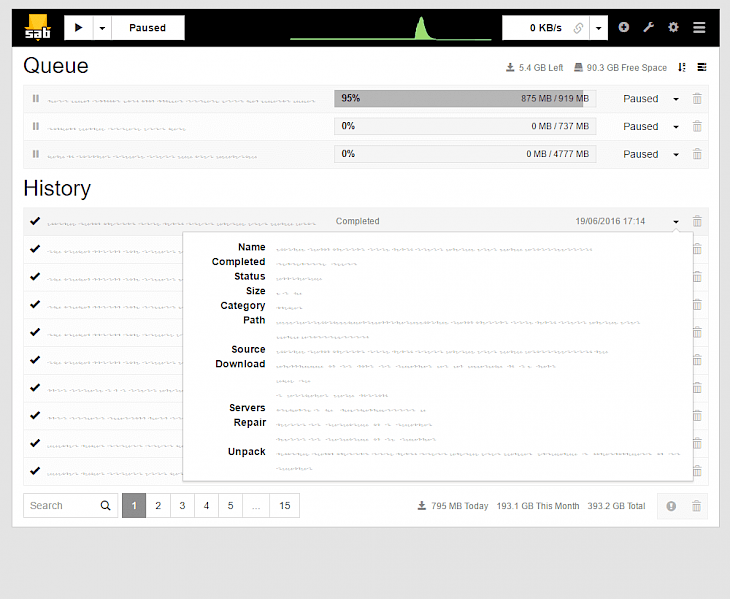 Download SABnzbd
SABnzbd is a full-featured binary newsgroup downloader software for the Windows operating system. This application simplifies the download verifying and files extraction from the Usenet. Instead of browsing the Usenet directly, this software application uses the NZB files which are similar to the .torrent files but use for the Usenet. You can acquire this program from a wide variety of Usenet indexing services.
The main interface of this software is web-based, which signifies that with minimum effort and a little bit of configuration the user can easily check and add the files from another PC all over the world or on other devices including iPhone. This program is specifically designed to download binary files from the Usenet servers. There is a community of people who upload various stuff and information and all sorts of interesting materials to the Usenet and to access this content you will need a special program that helps you to get this material with the least effort.
Before working on this program, first, you will need to learn about Usenet. For those who are a beginner with SABnzbd, it is recommended to find a reliable website or platform which explains the concept of Usenet in detail (the English website explains almost every concept in detail so you can refer to that if you are a novice). You will need to determine how to obtain the NZB files that define your downloads.
The software permits you to integrate with other tools and automate your download process. These tools or application includes radar, headphones, Sonarr, Sickrage, and many more. It can also read and process the RSS feeds, notify you, and activate the custom scripts. The responsive Glitter interface provide the access to this fantastic application and helps you to manage your downloads from any device with a web browser including Android phones, tablets, and iOS.
For the enormous user experience, SABnzbd is available in 16 languages including English, Nederlands, Dansk, Deutsch, Svenska, and many more.
FEATURES
Automatic repair and extract of downloaded files

Multi-threaded newgroup downloader

Low RAM usage

Fully featured WebUI allowing remote login

NZB file support

Post download scripting

Support for the Newzbin API

Post download E-mail notifications

Support for multiple Usenet servers

Folder monitoring
How to install SABnzbd on your Windows Operating System?
SABnzbd is a great application that you can use to simplifies the downloading verifies and extracting the files from the Usenet. To download this program on your PC, follow the instructions and guidelines described below.
Step 1: It is always preferred to install this software from the developer's official website.
Step 2: Alternatively, open your browser and search "Download SABnzbd for Windows" in the search box.
Step 3: Now, you will get a list of websites on your search result page.
Step 4: Once you have downloaded the setup file, follow the step-by-step guidelines and instructions to start the installation process and run this software on your system.
Step 5: After following all the steps, click on finish, and now you can use this fantastic software on your Windows operating system.
After successfully installing the program you can proceed to the configuring.
You might also like